FG TARGETS ERADICATION OF CERVICAL CANCER AMONG GIRLS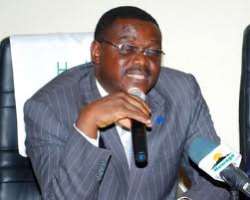 Minister of Health, Prof. Onyebuchi Chukwu
The Federal Government has said it will sustain the campaign to eradicate cervical cancer among young girls aged 9-15 years and women in the country. The FG said this as it immunised 186 girls with the Human Papiloma-Virus vaccine in the introductory phase of the pilot project in Abuja on Monday.
Speaking during the ceremony at Sheraton Hotel, the Minister of Health, Prof. Onyebuchi Chukwu, said with the immunisation of the girls, none of them would suffer cervical cancer for life, adding that the free immunisation would be taken to every part of the country.
The minister stated that every girl aged 9-15 years will be immunised with the HPV vaccine to curb the spread of cervical cancer in the country even as he noted that this form of cancer is prevalent in developing countries.
The wife of the President, Mrs. Patience Jonathan, who declared the programme open and immunised a few of the beneficiaries, described the project as a milestone in the fight against cancer.
She stated that cervical cancer was the second most common form of cancer in the world with 452, 000 cases reported globally, and 80 per cent of new cases occurring in the developing countries.
Jonathan explained that Nigeria has about 10, 000 cases of the disease and appealed to families to immunise their girls against cervical cancer.
'The statistics is disturbing, but I can assure you there is no need to worry because it is preventable; the Federal Government will keep up the campaign until cancer is eradicated,' she said.
The first lady further urged women to take advantage of the free screening and immunisation programme by going for tests, even as she implored the men to go for prostrate cancer screening too.