DE TIGERS DEPART FOR MADAGASCAR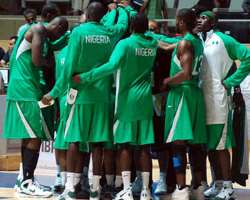 Before their departure, the team trained in Lagos for almost one week after their return from a foreign tour that saw them play matches I the US and Europe.
De Tigers praying before a match
While on the foreign tour, De Tigers played five matches, won four and lost one. Just before the team's departure, chief coach of the Nigerian side, Ayo Bakare told Sports Vanguard that the team was fully prepared for the Cup of Nations in Madagascar after which they will proceed to Mozambique, for the All Africa Games.
'The team is very ready. The team is doing well and we have prepared as hard as we can,' the coach said confidently.
Bakare backed up his claim with some encouraging statistics. 'They played three matches in the US, basically against pro-am sides, made up of NBA and College players. They won all the matches. They also played two in Europe, against the Ntherlands and Great Britain.'
He said that the team surprised him when they went ahead to beat The Netherlands 84 to 66 night in before being beaten by losing 'controversially' to the host country Great Britain 95 to 80.
'That was the only loss during our preparations. The result of our Great Britain game is questionable, but we don't expect anything less than what happened in that particular game,' Coach Bakare said, refusing to explain further.
On the whole, Bakare admitted that although he recognised the fact that their preparations started late, he was happy with the way the players had understood each other. 'I think the team has acquitted itself very well; they have played very well, in view of the short period we had to come together to prepare. I think we should have a good tournament.'