F/EAGLES SET TO SOAR OVER EURO KINGS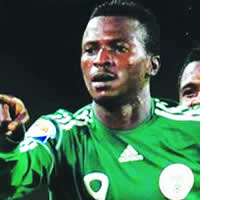 It would be the champions of Africa up against their European counterparts today at the 35,000-capacity Estadio Olimpico Pascual Guerrero in Cali, Colombia's third biggest city.
The Flying Eagles face a team that would most probably ask their defence the most questions since the Under-20 World Cup kicked off on July 29.
'I watched them (France) play against Colombia and though they lost that game, they played with so much maturity and tact. They also have a very sharp strike force and are never shy to try their luck from distance,' said Nigerian defender, Felix Udoh, who has yet to taste action in Colombia.
Coach John Obuh said the Flying Eagles were ready for their latest challenge.
'We respect them as we have respected all the other teams, but we are ready for the game and we hope in the end, we get the result we wish for,' said the coach, whose Sombrero Vueltiao has caught the imagination in Colombia and beyond since he wore it against England.
France finished second behind host, Colombia, in Group A with six points from three matches, with their only loss being to the home team. Gilles Sunu put the Junior Les Bleus ahead only for them to struggle thereafter and go down 4-1 against a highly-inspired Colombian team cheered on a sold-out stadium and lifted by the magic of striker Luis Fernando Muriel.
However, they picked themselves up with a 3-1 win over South Korea and a 2-0 victory over 10-man Mali. They thus finished the first round having scored six goals and conceded five.
In the Round of 16, they stopped a hard-fighting Ecuador courtesy of a 76th minute winner by Antoine Griezmann. Both Gilles Sunu and Alexandre Lacazette have scored two goals apiece.