FLYING EAGLES LACKED TACTICAL DISCIPLINE -OBUH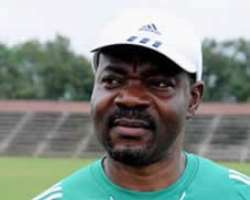 Coach John Obuh has blasted his Flying Eagles for 'tactical indiscipline' despite beating England to progress at the 2011 U20 World Cup.
A second-half strike by Edafe Egbedi Wednesday against mostly defensive England meant Nigeria became the only African team to reach the last eight of Colombia 2011. The African champion has now set up a mouth-watering clash with European champion, France, in Cali on Sunday.
However, Obuh lashed out at his team for a laboured performance against an England team he said were 'not fantastic' and who barely made it into the knockout stage of this U20 World Cup.
'I was not happy because my team was tactically undisciplined,' said Obuh after the match.
'It was a difficult game and it affected my players most because they did not play as a team. 'We caused our problems in this game but I hope by the time we play our next game in Cali, we would have corrected some of the mistakes seen against England.' Obuh also revealed that three of his players were injured during the game and so had to play through the pain barrier.
'England was not fantastic. They piled pressure on us in the dying minutes of the game only because I had three players injured who barely managed to finish this game,' he said. 'We are ready for France in the quarter final. Hopefully, some of our players that played through pain against England would have recovered for the cracker'
A highly relieved Flying Eagles party left Armenia yesterday morning on a three-and-half hour bus ride to Cali, the capital city of Salsa music with a predominantly negro population that boasts hot weather.