15 INVESTORS STORM AMCON TO BUY NATIONALISED BANKS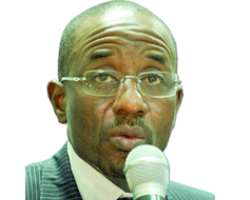 Sanusi
For the past three days, the Assets Management Corporation (AMCON) has received a barrage of applications involving five local and ten foreign investors expressing interest to buy the three nationalized banks in Nigeria.
AMCON's Managing Director, Mustafa Chike-Obi told our correspondent who was at AMCON's office yesterday that AMCON has already given its response to some of the interested parties including a South African Bank.
The prospective investors according to Chike-Obi comprised of banks and private equity firms who must first meet the criteria set by the Central Bank of Nigeria (CBN), before they could be considered as eligible buyers.
While assuring that about 11,450 total employees of the three bridge banks can rest assured that none will lose his or her job, as a result of nationalization of the banks Chike-Obi said they can only lose their jobs in the normal course of business if they err. The AMCON's helmsman said the corporation is not willing to hold on to the banks for more than two years. 'As we talk now, we have got a lot of proposals and we will not own the bridge banks for more than three years. We are not regulators but will make sure potential investors are qualified to run a bank,' Chike-Obi maintained.
He explained that the N679 billion injected into the bridge banks was not a loan but an investment that is expected to yield returns in form of dividend or capital appreciation for AMCON as a shareholder. This according to him is typical of every capital invested in a company. None of the banks would be liquidated but must be sold because just a day after nationalization, a particular investor expressed interest to buy two, he revealed.
Chike-Obi who insisted that it is not only unprofessional, but also too early to reveal names of the potential investors, expressed regrets that shareholders of the nationalized banks, which he is one, has lost their investments.
Acknowledging that such is a normal situation in business circle, he noted that there are times one loses and there are times one gains. Stressing that the coast is now clear for any of the shareholders of the defunct Afribank, Spring Bank, and Bank PHB to come and buy into the bridge banks. 'If they are interested, have the money and meet CBN's criteria for core investors tomorrow, I will sell the banks to them. Yes, they can have the banks,' he beckons.
The AMCON's boss explained that though the corporation will not interfere in the running of the nationalized banks, AMCON will exercise the powers it has as a shareholder to replace the management if at any time, it is noticed that there is bad corporate governance practices. This he noted is not interference in anyway, just as voters do not interfere in the presidency but have every power to vote a president out of office, every 4 years. The new management he believed will determine what to do with the branches of the bridge banks.
On the former directors of the nationalized banks, Chike- Obi said they have done well and will remain as temporary consultants until every activity involving transfer of useful documents have been completed in the next couple of days. 'As a matter of fact, their appointment with CBN is expected to expire on the 15th of August 2011 but they are expected to remain with the new banks for upwards of 20 days. Thereafter, AMCON will like to engage them as its consultants,' he stated.