OUR COTTAGE INDUSTRY HAS GREAT POTENTIALS TO BE THE BEST IN THE WORLD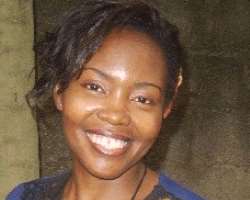 For Vera Akpan, harnessing her potentials in creating things with her hands would not have been actualized, if her mum had not obliged the use of her sewing machine. With constant practice, it became clear to both Vera and her fashion designer, mum, that this path of creativity is where is meant to be. So, what actually started more as a hobby for her during her undergraduate days, has gradually translated into a real business.
Aside from that, I did a lot of History in the University and was sub-consciously looking for a way to express the rich African/Nigeria heritage through this type of fashion designing
After 14 years of craftsmanship in a rare genre, Vera Akpan has carved a niche for herself. Her ingenuity comes to bare in her designs.
In this interview with Daily Sun, she traces her steps through the ladder of success in her chosen field. She also reveals that Nigerian cottage industry has a lot of potentials to be the best if only practitioners pay attention to little details and their finishings. Excerpts:
Why did you choose this genre of designing?
When I became a born-again Christian and sought to do something with my hands, the beginning of this was the answered prayer.
Can you tell me what propels you in this job?
The zeal to churn out good work and succeed generally are some of the factors that keep me going
What about your inspiration, where do you get it from?
God is naturally, my ultimate source of inspiration in addition to my passion for what I do.
Things around me also drive my creativity. I get inspired by trends and what is in vogue as well as my personal concept Often times what the client wants and research help too
You are into fashion designing too, but how are they different?
My designs are not only unique but are well researched into so as to relevance and propel the buyer to purchase an extra-ordinary product
Much as you are passionate about your designs, would you say that the fortune you have made so far literally gets you fulfilled?
No, money doesn't bring fulfillment in any form but passion ultimately does. When you find your unique purpose, the real reasons you were created, you would find out that you are clearly in your zone and that brings you fulfillment.
What would you say is the main key to success?
For me, the key to success is your ability to finding the exact thing you are passionate about and building yourself in the path to rising up. I also think that exercising patience, putting what you are doing in prayer are all important factors to succeeding in life.
In all works of art and creativity, man is naturally bound to make mistakes sometimes. You can't be an exception. But do you learn from your mistakes?
Yes, absolutely. Making mistakes is only natural and we are all bound to mistakes at different times. Mistakes are made so we can learn from them and grow which culminates into experiences for us. They are very necessary to climbing the ladder of success.
Patience, passion, prayer are all the foundations of a successful business. Like the saying goes that Rome was not built in a day, one will keep striving to succeed and needs to keep developing oneself and striving for better things and opportunities.
How would you describe your sense of fear in this business?
My greatest fear in this business is the inability to put the adequate value to my creativity and charging accordingly. That's the reason I am on my toes so as to give my clients extra value and added benefits
What is your take on diversifying?
Diversifying is the key to stiff competition. I didn't have a formal training in making craft pieces. Without sounding immodest, I would say it is a unique concept from the depths of my being. I try to stay a step ahead by researching and constant innovation.
As a business woman, can you give me an insight into your business philosophy?
I am one who really believe in my natural ability. So for me, it is one having to believe in oneself. Believing in your vision. The truth is that no one can believe in your potentials and abilities like yourself
How would you define your moments of satisfaction or fulfillment?
Satisfaction and fulfillment are those moments when I have spent time in the creativity room and people appreciate the outcome and are ready to pay for it adequately
Your aspiration?
My aspiration is to be a leading crafts company locally and internationally
Can you assess the Nigerian cottage industry?
Nigerians are great and hardworking people. Our cottage industry has great potentials to grow. The truth is that only, we, Nigerians can revive the cottage industry. We need to look inwards and carve out our unique niche. There is no doubt that there are problems and challenges, here and there and someone needs to solve it. Who knows? You can be that person.
What area would you say the sub-sector faces some challenges?
I think that one major area of challenge is in our finishing. Some of us are yet to get it real right and neat. If we are precise and careful in finishing our products very beautifully and neatly, only then, can we be confident to demand due value, locally and internationally.
The world is a global village and the rest of the globe is waiting for us to get our acts together and portray what we have and showcase our stuff. We have to put carefully articulate our creative thoughts and ability and we can deliver the very best
When we talk about creativity, I am convinced that there is something in every human being. The creative industry in the UK accounts for over 28% of gross GDP. They need to look inwards and carve out their unique niche. There's a problem to solve and someone needs to be the problem solver—you can be that person.
Can you tell us more about yourself?
I have an OND in Marketing and Management. I also have a Bachelor of Arts degree in International Studies and Diplomacy from Ambrose Alli University, Ekpoma, Edo State and a Masters in Public & International Affairs from University of Lagos.
I have attended numerous leadership seminars and workshops. I have participated in the Creative Enterprise Program with the Pan African university and the University of Glarmorgan.