Sam Loco Efe: Police Confirm Death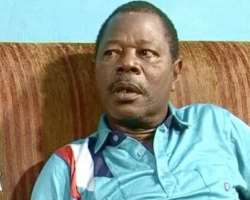 LATE VETERAN NOLLYWOOD ACTOR SAM LOCO EFE.
SAN FRANCISCO, August 07, (THEWILL) – The Imo State Police Command has confirmed the demise of veteran Nollywood actor, Mr. Sam Loco Efe, 66.
Imo Commissioner of Police, Mr. Mohammed Jingiri Abubakar told reporters in Imo State that Sam Loco had been ill for about a week prior to his demise today in a hotel room in Owerri, the Imo State capital. Mohammed added that the actor had checked into the hotel with the hope of resting before hitting set for a new movie being shot in Owerri.
"It is true that Sam Loco has died. He died in Rapour Hotel in Owerri. We heard he had been sick for one week and he had just been discharged," the CP stated.
Abubakar said the police had recovered his body and would launch an investigation to determine the cause of death.
An indigene of Edo State, Sam Loco was however born in Enugu, Enugu State.
Until his demise, he was one of Nigeria's finest actors and had a huge followership.