My man must be crazy about God--BOUQUI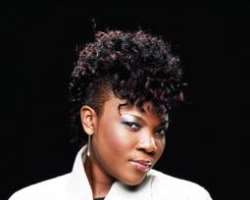 Bouqui Olubukola Afolayan popularly known as BOUQUI is a gospel rapper. In this interview with FUNMI SALOME JOHNSON, she speaks about her recent tour of Europe and North America, her current project and love life among other issues. Excerpts:
You have been away for so long, what have you been doing?
I have been on tour trying to spread the most important message locally and internationally. I went to about 15 states in the US and in Europe I went round 32 states. I also went to about five states in Canada and I am up to Canada again next month. So we are just trying to rehearse and get it together. Another thing that has kept me so busy is the Redefinition Campus Storm that we started in Nigeria. We go round campuses and we just have a good time.
What have you been redefining?
What we are trying to redefine is the fact that you can be a Christian and still catch fun. You don't have to be the regular kind of guy that engages in immorality before you can have fun. We are also letting people know that you can live your life for God against all the immoral conduct, cultism and alcoholism that have pervaded the universities. The message we are trying to get across is that you can be a Christian and have fun without engaging in all these pervasive activities.
Who sponsored your tour?
It was God that sponsored it because I cannot attribute the tour to anybody else because it was awesome, it was huge and it was just God all the way. It didn't even start like a tour. I just had like five shows in London and I did it and some people heard I was around and they just started calling me that they were putting up a concert for me and then it just went on and on. I came back to Nigeria for like two months and somebody heard that I was in a place in London and he said I should come to America and I went and I kept getting calls here and there. It was just awesome and honestly, it was God at work. I have a management team in London and America but honestly, I can't ascribe it to them, it was just God at work.
What lessons have you brought back home?
I have learnt better ways of doing things and improving my stage art and my band boys are very tight. I dare say that they are one of the tightest in Nigeria.
Sometimes ago in an interview, you said pirates were a help to the industry, do you still think they are?
I did not say that pirates are helping us but I was saying that in relationship to tour condition. What I am saying is that we don't have that structure on ground to promote effectively; we don't have management outfits that promote artistes and their works. So what we do basically is that we just live and if a music presenter likes your music, he will play it but the chance of him hearing it is very slim because he doesn't even know you. But when pirates came in, they would take your song and put it on a mixed CD and they would distribute the CD round the whole country. I get to Lokoja and I am hearing Oleku. This is someone who doesn't even have an album. Pirates do the mixed tape and distribute it but the down side of the story is that they get the money but compared to what you would have been getting which is nothing, I think it's just a fair deal. It is not a good deal but considering the situation on ground, it is not so bad a deal, if we have record labels on ground with the structures on ground, things would have been different but there is no such thing for now. Even the tightest record label here does not have the kind of distribution that the Alaba boys have, thus it has its bad and good sides as well.
Apart from music, do you have any other thing you do or intend doing?
I know I am a natural actress but it had never crossed my mind to act. I know that one of the attributes of a good leader is being focused so if the lead to act comes, I will do it and I will do it well but I will not do it because others are doing it. If need arises and I have to do other things, I will because I can do all things through Christ who strengthens me.
What kind of a man will catch your fancy?
A man who loves God is the type of man that will attract me. I want a man who loves me like crazy and a man who loves God totally. When a man loves God and not you, there are just some things he would never do because of that fear of God in him. Just like there are some things I will never do now because I love God and will never imagine hurting Him (God). So if I marry a man, cheating on him or committing adultery will not come naturally because I don't want to hurt God; even when I was single I did not do all those things because if you do, you are doing it against yourself. You will realise that adultery and wayward life are curses against the woman, it is not only the man that it affects, it affects the entire lineage, so for these reasons I will want to marry someone who fears God and someone who respects me. I want someone who has a dream of purpose not ambition or drive that is going somewhere not just anybody.
What is your view on premarital sex?
It is wrong....
Are you a virgin?
(Laughs), I have answered this question several times in my previous interviews and I am not ready to answer it again. When you are in Christ, old things have passed away. Before now, there was a lot of hype on it which is good. I have seen so many marriages crash even though the girl was a virgin. It is not really about being a virgin because you might have been a virgin because no one looked at you and that doesn't mean you are better than the person that is messing around. I think discipline is what matters most because character is not something that happens accidentally. No, you consciously build it. I realise that there is much to life than just coming out to say I am a virgin. Right now, there are a lot of people who need to be talked to or reached. You should not just be shouting about stuffs that don't hold water, God will never say okay, come to my kingdom because you married a virgin.
What kind of a child were you?
I was and still a tom boy. I used to climb trees and fight but I am happy because I channelled all my emotions into something better. I fight my way through any circumstance, even now that I am older, nothing can hold me down. I don't see any impossibility in life, except I don't want to do it. If I want to do it and I have God's backing, I don't see any impossibility. I used to climb trees and do all those things, I can see it in my drive, my passion and my relentlessness, so everything has worked together for my good and I thank God.