RACE TO BRAZIL 2014: KALUSHA WARNS NIGERIA, GHANA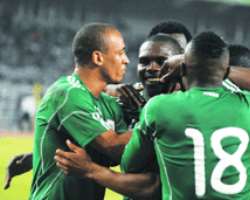 One of Africa's soccer legends, Kalusha Bwalya, has warned that the so-called soccer minnows in the continent, including his country, Zambia are capable of springing surprises during the Brazil 2014 World Cup qualifiers.
Bwalya, who is the president of the Football Association of Zambia (FAZ) had after the last Saturday draw in Rio de Janierio, Brazil stated that past records may not count in the African qualifiers where the like of Nigeria, Ghana and Egypt have been tipped as favourites to win their respective groups.
The CAF executive committee member, who spoke to Asempa FM, said the Chipolopolos of Zambia would give Ghana a good fight in Group D, even as he added that the race in Africa would be full of surprises as it was in 2006, when Togo and Angola came from no where to qualify for the Mundial.
In  Bwalya's words: 'One will be making a grievous mistake by using past records as a qualification tool.' He stressed that contrary to what the bookmakers say, history will not be a key determinant as to which countries will qualify from the respective groups.
Bwalya said though Zambia may not parade big names, the country has a crop of young players that are raring to go and a coach who is eager to prove his mettle, a situation that will make things difficult for Ghana when action begins mid next year.
'The current crop of players in Zambia are good although not big names. We also have a good coach in the person of Daniel Bonetti. All we need do is just  to strike a good balance in the team and they would surely make a headway.' While Ghana has Zambia to contend with, the Super Eagles of Nigeria will face Malawi and Kenya in Group H. The winner of the 10 groups will qualify for the third and final round of five home and away ties.