HOW ZULU DANCERS, MINISAA SANG FOR MADIBA IN LAGOS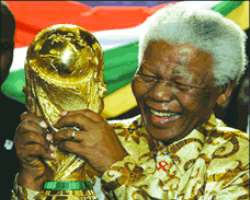 •Mandela
It was a sweet union of two nations recently as Nigerian performing artistes joined members of the United Nations (UN) at the Silverbird Galleria , Victoria Island, Lagos to celebrate an illustrious son of Africa. The artistes used the stage to pay tributes to the international icon and leading anti-apartheid crusader, Dr. Nelson Mandel who turned 93 last July 18.
Minisaa and her Treasure Band opened the show with mimes of songs by African artistes such as Angelique Kidjo, Sipho Mabuse and Baala maal. This was followed by the energetic and mesmerizing show of artistry by the popular Zulu Dancers from South Africa.
The event was packaged jointly by the South African High Commission in Nigeria and the entertainment hotspot; Silverbird Galleria,  and was graced by dignitaries including Chief Emeka Anyaoku, Nigeria's former Secretary General to Commonwealth and Chairman presidential committee on Foreign Affairs.
Also on parade were South African wines and cuisines, which were served to everyone at the event. The show was described as an informal one as all guests stood watching the proceedings. Some of the events were the South Africa's Mggushu cake with beans and pap, a pictorial exhibition of Dr Nelson Mandela and a short documentary in his honour.
Flagging off the show was Mr. Ben Murray Bruce, Chairman of Silverbird Group who extolled Mandela's virtues of promoting peace and other good things, despite spending 27 years in prison.
According to Bruce 'Mandela had the heart to forgive. I remember once when Bill Clinton said to Mandela:  Nelson, you've been in prison for 27 years. Now that you are free as the President of South Africa, surely there must be hatred in your heart as you stand before me. And you cannot tell me that after the Whiteman put you in prison for 27 years, you could look at me here and say that you've forgiven the Whiteman who put you there in such a great injustice?  Nelson replied; 'when I left prison, I was free. It means I cannot hold the whiteman for the thing he did at that time, and if I have hatred in my heart against the Whiteman, I would never be free. Therefore, the past is past, and we must move forward'. Bruce noted further that Madiba's act is a lesson for humanity and all races adding that 'we must learn to forgive and move forward in strength, so that we can really be free'.
Bruce described Nelson Mandela as a great man and pride of Africa whom the whole world love and adore. 'South Africa is a great country. People like the country for many reasons; I like South Africa because of her nature. When I think of the country, what comes to mind are the lands where we have animals like Zebra, Chita and all the wide animals and they excite.' Bruce noted.
The South African High Commissioner, Mr. Kingsley Mamabolo who was represented at the show by his Deputy stated that Nelson Mandela is not just a South African, but an International Citizen. He explained that the event was a heavy one for the High Commissioner who has been sharing the excitement and information about Madiba with the people of Nigeria.
Mamabolo said that Nigeria is one of the critical countries that supported South Africa's liberation struggles, pointing out that Madiba would be happy to know that the High Commission shared his birthday with Nigerians.
He explained that Nelson Mandela's birthday was actually July 18, but the date had to be moved to July 23 because of logistics, adding that July 18 was endorsed and adopted by United Nations (UN) to celebrate Mandela.  His words 'It is a world day that everybody is encouraged to spend 67 minutes of time for something good. The date is about sharing good citizenship and doing something to the needy. These are the values which Madiba stands for; to be kind to one another.'
Mamabolo expressed deep appreciation to the Silverbird Group for inviting him to celebrate with Nigerians, noting that the event was one of the many outreach programmes for the mission in Nigeria. His words: 'Part of what we do at our embassies is to reach out to communities that were with us during the anti-apartheid movement. We believe this is one of the important elements of our work in promoting the relations between us and other countries. The choice of 67 minutes is very important because Dr. Nelson Mandela spent 67 years of his life serving communities, his country and the world at large.
Therefore, South Africa is expected to reach out to various countries, do some community work in honour of Nelson Mandela. We are grateful to Nigerian communities because if not for the country's role during the struggle, we probably would not be having this event. Nigeria is a strategic partner of South Africa and without Nigeria and South Africa, we don't see any Africa'.
In a chat with Daily Sun, Head Silverbird Malls in Africa Mr. Jide Asumah said 'the event was a celebration of the greatest man that ever lived. I don't think there is any human being alive or dead that I can equate to the Great Madiba, apart from may be Mahma Gandhi. He is the greatest man in this generation'. Asumah said that the five hour event was an incredible thriller as evidenced by the performances of the Zulu dancers adding that it was a honest contribution of Nigeria and Silverbird in marking Mandela at 93.
Asumah disclosed further that Silverbird Group is in the process of achieving what it intended with the programme. These include highlighting the day, and extolling virtues of a great man who has been freed to bring together Nigerians and South Africans. He reiterated that Nigeria played a great role in the days of Apartheid pointing out that musicians like Majek Fasheck, the late Sunny Okosuns and Steve Wonder did songs to ask for the release of Dr Nelson Mandela from the prison. So the bond that exists between South Africans and Nigerians today continues while the event provides another avenue to cement it and make it stronger. Asumah added.