Mama Ajasco's Unfulfilled Dream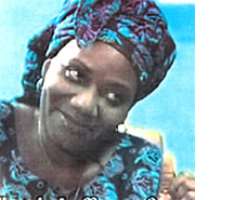 The inability to complete the house she was building in Ikorodu area of Lagos, has been identified as the unfilfilled dream of talented Yoruba actress, Iyabo Momoh a.k.a. Mama Ajasco.
http://www.nollywoodgists.com checks revealed that the late Momoh, fondly called Abeni Aworuru by her Yoruba fans embarked on a building project few years ago but she died before completing the house.
As fate would have it, the late Mama Ajasco was however buried in one of the undeveloped plots.
Speaking at her burial on Wednesday, Mrs. Funmi Ojikutu, a neighbour of the deceased, who also helped in purchasing her land, stated that the deceased only summoned courage to erect the building up to its present state.
"I encouraged her to buy a land here. In fact, I helped her in the purchase of the land and also secured the papers for her. When she was contemplating on how to go about the foundation, I advised her on what to do and even donated some materials towards it. But see what death has done. I don't think Mama Ibrahim lived up to two nights in this house. Oh, what a cruel death!" she said in Yoruba.
Ojikutu added that Mama Ajasco was always complaining to her about the pains in her swollen legs that eventually led to her death.