'My marriage comes before every other thing'---Bimbola Oshin-Ibironke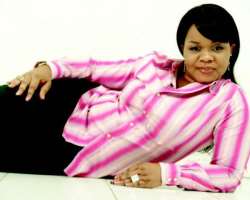 Bimbola Oshin-Ibironke is not a new face in Nollywood, especially in Yoruba genre of the entertainment industry in Nigeria. The versatile screen actress, who studied Philosophy at the University of Lagos before going into acting, speaks with SEGUN ADEBAYO about what has kept her marriage going, early challenges, life and latest flick in this interview.
YOU were for a period of time not seen in movies, while you were away; many had thought you left because of the pressure and many things that were said and written about you. Could you tell us the true situation of things?
You know people could be very funny and mischievous. I actually took time off to nurse my baby and spent some quality time with my family. I believe my family comes first before every other thing. Everything comes with its own challenges and nothing comes easy, particularly in this part of the world where you have to work very hard to eke out a living.
Some of your colleagues whose marriages have crashed blamed them on negative things coming from the media, how were you able to keep your marriage during the turbulent period?
The convenant of marriage was instituted by God and it also involves two people. So, whatever anybody says or feels is regarded as secondary to the understanding, love and commitment the two parties involve in the marriage have towards each other. What baffles me is that people have failed to realise that there is no such thing as perfect marriage because the institution itself comprises of two imperfect people that need to love each other perfectly. The misunderstanding in marriage only makes you understand your spouse better and brings you closer than before to each other because by that time you must have understood what his likes and dislikes are. Having said that, I have also learnt over the years not to pay attention to what people say or write about my marriage. It has helped me to be more careful; it has also afforded me the opportunity to love my husband the more by showing more commitment to each other.
But did you at any point feel like quitting owing to pressure?
Everything one does comes with its own challenges like I said earlier, and why would I quit the scene because of challenges? Challenges are there to test your ability. This is my passion and I pray to remain in the industry as long as the source of my strength (God) permits me. God is the source of my everything, without Him, I am nothing. When He says stop, I will not hesitate.
How have you been able to stay on top till now?
It's a lot of hard work, I must confess. The grace of God is another factor that has driven me thus far in this industry. Any time I see a finished work of a movie I was part of, it reminded me that all the work was worth it. What we do in the industry is no joke at all, so you have to be up and doing to remain relevant. It takes a lot of hardwork, dedication, passion and more importantly, perseverance. The industry is a very big one and new faces are coming up everyday and it will continue to grow bigger because you can see how people are coming out to say they want to join, so this is a pointer to the fact that we are growing in numbers everyday with perfection being our watchword.
You are one of the screen actress that have endeared into the hearts of many, particularly the men, and how did you feel not clinching the Globacom Ambassadorial deal, that saw the Funke Akindele making the list?
Let me tell you, different brands look for ambassadors that they feel would best represent them and what they stand for. So, I feel that they were chosen because they suit the brands they represent. It has nothing to do with me.
What are you working on at the moment?
I am actually working on my new movie which will hit the market very soon. The movie is titled 'IRETI Mi'.
How does it feel to be somebody people want to meet?
My brother, it is extremely humbling and I want to say here that I feel higly honoured for the beautiful and mind blowing comments I get from my fans out there. It feels good to be a person of influence and it also comes with a lot of extra responsiblities and commitments. I also see it as an ample opportunity to reach out to people and be a positive influence on them. I believe I am in the entertainment industry for a purpose and not by mistake.
How has stardom affected your life?
It has made me to see my self as a mirror and I am also very conscious of what I say or wear because I know that there is someone out there who is looking up to me and probably wants to be like me. Honestly, I shed tears when I walk or run into ladies and they tell me they want to be like me or that I am their role model. It has made me realise the fact that I have to keep on improving on my self day in day out.
Do you still get scripts?
Why not? Scripts are still coming my way in torrents but I don't have to take or act in every film. I have to treat them very well because my integrity is at stake.
Tell us about your educational background and growing up?
I am a native of Ondo State and my growing up was quite interesting. I am the second to the last child of my father. I read Philosophy at the University of Lagos before embracing acting.
It is a general belief that your relationship with your husband Ola Ibironke, known as Dudu Heritage played a major role in shooting you to limelight, how true is this?
Let's just thank God for everything we have achieved so far. Like I used to say, God's plan for one's life will remain unchanged, no matter what happens. It is also not a hidden fact that my husband, Ola Ibironke no doubt played an immeasurable part to the success I have attained so far in the industry and I will remain grateful to him for this height.
Do you think you would have been this successful if you had not met him?
Like I said earlier, I owe everything I am today to God and my husband. God's plan for me came when He had planned it for me and I met my very caring and understanding husband whom I hold in a very high esteem till date when God had planned that we would meet. So, my case is not different from God's divine programming for my life and I am so grateful that it didn't elude me.
How did you meet him?
We met at Golden gate restaurant at Ikoyi in year 2001.
Did he just run into you or what?
No, we met at my friend's dinner and he was on a business meeting. He approached me, we got talking and the rest is history. We are happily married and the marriage is blessed with a son.
What attracted you to him?
I will say the initial attraction was his confidence. He walked up to me the first time with a very high sense of confidence and belief in himself that he knew what he wanted which is very unusual these days. As we got talking, I began to notice other remarkable qualities.
What are the qualities?
He's very intelligent, God- fearing, highly understanding and an excellent father to all his children. He's gentle but very strong and deep. We had many conversations that day that others could not understand. We started on a friendship footing and today I can say that I am married to my best friend.
Would you marry him again if you come back to this world?
I will marry him if I come back to this world over and over again.