I WITHDREW FROM TRIBUNAL IN ORDER NOT TO GIVE AMAECHI'S GOVT LEGITIMACY -SEKIBO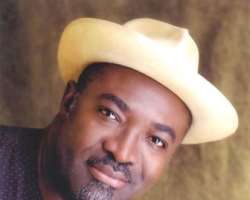 Former Minister of Transport and the Action Congress of Nigerian (ACN) governorship candidate in Rivers State, Dr. Abiye Sekibo, has explained why he withdrew his case against the election of Governor Chibuike Amaechi from the tribunal.
According to him, he had to withdraw the case because the Independent National Electoral Commission (INEC) has frustrated his move to procure evidence he needs to prove his case. He said that instead of pursuing the case, whose loss would give the state government legitimacy, he preferred to withdraw it.
In this interview with some journalists, he spoke on this and other things.
Before the election, the state ACN chairman left and declared support for the PDP and some other state executives also left. How do you think the party will survive all these high level intrigues?
Well, it is unfortunate that happened, but maybe by act of omission or act of commission, Nigerians are not looking at the issue of personal integrity; they are trivialising the issue of personal integrity. When a person is given a certain responsibility, as a party official, at any level, it is expected that you bring with you a certain level of integrity that matches that office. Unfortunately, by and by, we see people treating that office with levity and without regard and practically showing that you are not a person of integrity. Now, when this happens, it will be something that should make us sad. I sympathize with the former party chairman, who allowed himself to lead a party to almost the point of election and on the eve of the election, he decided to bolt out of the party and tell his supporters to vote for another party. Nobody should take such person serious.  For me, his action is an act of irresponsibility and it shows the person lacks integrity.
We learnt that there are pressures from the Presidency for you to return to the PDP?
I have not noticed that and I have no intention whatsoever to even consider any such pressure, even if there is.
You are an Ijaw man and President Goodluck Jonathan also comes from the Ijaw extraction. Are you saying that if the president prevails on you to return to the fold, you won't consider it?
The entire Ijaws do not have to be in the same party.
What is your relationship with President Jonathan at present?
The president is a member of the PDP and I am a member of ACN; we are both Ijaws and he is married from my town and as a Nigerian, he is my president.
It's five months after the Rivers governorship election. What do you think about the elections?
Well, I think I have made comments on the past general elections as it affects Rivers State and I won't mind repeating myself. The elections that held last April in Rivers State were the worst ever in the history of the state. The governorship election was rigged, Government House announced the result, send a press release round the country announcing the result as early as 8am in the morning, while INEC was still in the process of collating election materials. Eventually, INEC had to announce the results around 4pm and what was announced by INEC correlates with what the Rivers Government House announced at about 8am that same day.
So, for me it was clear that the result, which INEC upheld for Rivers State, were purely what the state government and PDP led government pre-compiled. For me, what was announced was a sham, but let me make something clear; the people of Rivers State trooped out that day to vote the Action Congress of Nigeria, (ACN). From the point when the people finished voting, every single electoral provision, the Electoral Act and electoral guidelines were flouted in Rivers State. Even when Professor Jega said you are free to take pictures and film, those who attempted to record in camera what was going on were not only brutalised, bust some of them also had their hands broken, their camera destroyed and all sought of evil was committed against the Rivers people. So, the Rivers elections was the worst in the history of the state and many were not surprised that many of the candidates headed for the tribunal after the elections, since INEC decided to uphold that sham result that they announced.
You went to the tribunal and later withdrew your case. Why?
Well, we saw the rape on the electoral process. We believed, like law abiding citizens of this country, that we could seek redress through the tribunal and I want to put on record that from the day INEC announced those results, we did everything to get documentation from INEC; we took our photocopy machine to INEC office, but they did not allow us get documents of what they had announced. For us, we see that INEC was still battling with how to arrive at the results they announced. Even when we went to tribunal, all kinds of obstacle were put in our way; they knew we were to base our argument on the forensic of what they had done, but when we realised that they have successfully put obstacle in our way, made it impossible for us to get the information that was required by the tribunal and the time provision in the Act has caught up on us, we had no choice but to realise that we are being presented with a fait accompli and we refused to be used to rubber stamp an evil that has been committed against Rivers people. So we had to withdraw from the tribunal, but we will continue to be the opposition in the state.
Are you saying that your withdrawal was more of technical approach, rather than accepting the result?
As far as we are concerned, the INEC, which was supposed to be an un-biased umpire, was already working hand-in-hand with the Peoples Democratic Party (PDP) to prevent us from getting the true pictures of things to present at the tribunal. So since they are already doing the bidding of the PDP and making it impossible for us to get documents to present at the tribunal, we had to withdraw. First, we are entitled to have whatever results were announced at every collation point, from the unit to the ward, from the local government to the state; but they would not release any of those. We told them they should allow us photocopy the ones they have; we took our photocopy machines down there; they did not allow us even to photocopy what they have. So they made it impossible for us to build our case, deliberately, and they were aided and abated by the state government clearly and they want a situation we would not prove our case, so they would win at the tribunal, which would be presenting a false picture to the world. The only alternative for us is to withdraw from the tribunal because it was clear we would not be getting justice under that circumstance, in a case where INEC was supposed to be a neutral party and they are not.
There are reports that by withdrawing the case, the ACN will be giving the PDP government in Rivers State support. How true is that?
The ACN is the only opposition in the state and we raised a lot of issues during the campaigns and after campaigns. The ACN will never work or support the government in Rivers State, for various reasons. This is a government that has passed a law that gives the governor the opportunity to do whatever he likes with the treasury, in what they call Rivers State Procurement Act and public private partnership, where the governor can award contracts to whoever he likes without preference to anybody, without being answerable to anybody. Those are things that we pointed out during the campaigns. When you come into Port Harcourt, see the roads and with rainy season, there is no where to pass and in the last four years Rivers State has spent over a trillion naira and nothing to show for it. Health centres and primary schools built at 10 times its real cost. No right thinking mind will support this kind of government because it is a rape on the people of Rivers State.
Immediately you withdraw your case from the tribunal, it was speculated that money exchanged hands between you and the Governor Amaechi government for this to happen…
Well, it is unfortunate that in Nigeria, people are used to equating money with everything. There are still a few of us in this country that money cannot buy and while I am not blowing my trumpet, I believe strongly that I am one of the few Nigerians that money will not buy and office will not sway, in terms of standing for what is right, what is fair and what is just. I want to state categorically that never and at no time whatsoever did a penny exchanged hands in this decision or process that led to our decision to withdraw from the tribunal. If anything, I have explained to you it is because of the obstacles we encountered in the hands of INEC and the PDP controlled government, which they put in our way in gathering the evidence that we needed to use at the tribunal.
What about the insinuations that your political mentor, Dr. Peter Odili prevailed on you to withdraw your case, since he and Governor Amaechi have settled their differences?
Let me very blunt. Dr Odili and I have never discussed the elections and neither have we met; so there is no opportunity for Dr. Peter Odili to even raise the tribunal matter.
Are you saying you have not met Dr Odili since after the elections?
I can tell you that we met very briefly for about 30 to 45 minutes and it was during the wife's elevation to the Supreme Court and there was absolutely no discussion whatsoever within that period we saw between me and him. I went to congratulate the wife whom I have always regarded as a mother and that was it. He did not raise any issue with me about the tribunal and neither have we seen since after then.
Let's get something clear. Are you saying you were not induced by the governor or through Dr Peter Odili to withdraw your case?
Such statement is arrant nonsense.
But if the governor calls on you to join hands with him to build a new Rivers State, will you accept?
I want to make this clear. In governance, everybody wants to contribute his or her own quota to building the community, the state or the country; everybody wants to do that, but if you find out that the person at the leadership has shown clear tendencies for manipulation of the process, which makes possible personal enrichment and aggrandisement, you will not want to put hands together with that kind of leadership. Anybody who wants to serve his country or state and believe that he or she can do it under a corrupt leadership, is not being sincere. I have told you that this leadership under the present government in Rivers state is the worst government and I will not put hands together with such leadership in this state.
As a major player in the Nigerian politics, what is your assessment of security situation in the country today?
I am very worried with the situation. When there was severe insecurity in the Niger Delta, I was part of those who came all out to support the Federal Government to ensure that the situation was brought under control. I gave maximum support to the amnesty programme. I was one of those who even advocated amnesty for these youths, so that they can come out of the creeks and support the government to give peace a chance. Today, that has worked and we thank God it worked. The level of insecurity we are seeing now, with Boko Haram, is a source of worry to every true Nigerian; it is a serious source of worry and I am very concerned. The spate of bombing is highly condemnable and the government must continue to do whatever it takes to bring this situation under control.