I'LL QUIT IN 2015 -JONATHAN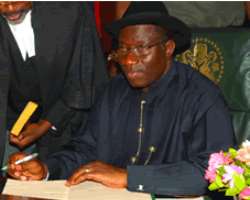 President Goodluck Jonathan
President Goodluck Jonathan yesterday denied insinuations that the proposed bill of six-year single term for elective offices  was meant to prolong his term beyond the constitutional deadline of May 29, 2015.   He said that the proposed bill was not original to him.
The President insisted that he and his deputy, Namadi Sambo, will end their tenure on May 29, 2015.
Speaking at the 56th Peoples Democratic Party (PDP) National Executive Committee  meeting  in Abuja Thursday, the President  revealed that major political parties who participated in the Government of National Unity  (GNU) made input into the initiative of six- year single tenure which was the thrust of a memo sent to the Justice Uwais Electoral Reform Committee under the late President Umaru Yar'Adua.
'How did this thing come about? Some of you will remember that in 2008 and  2009 when we came on board and the feelings that  elections were poorly done and so dramatised that people felt that elections weren't properly conducted.
'So, because of these challenges, the late president set up the Uwais Committee to look into the electoral reform; then, he also asked all the parties to come together and form a team so that all the parties would submit a common position and rightly, the late president asked me then, as vice- president to chair the inter-party committee and present a common memorandum to the Uwais Committee.
'We invited all the parties that formed government -ANPP, Labour, but only AC in fairness to them didn't attend, but all the other parties attended and we spent almost a month- the report is there!
'One of the things we discussed and accepted was that a single tenure option may reduce some of these acrimonies. So, that's how the thing came up. It isn't my idea or was it conceptualised by president after winning elections. No, it has been there, the memo submitted by us contained that.'
President Jonathan noted that an issue as important as constitution amendment would not be contemplated without recourse to proper consultations with  other arms of government, at all levels, and assured that all major stakeholders would be carried along.
'Since we are meeting here as the NEC of the party, it is only proper that we clarify some issues, so that it will not be misunderstood.
'The rumour came indeed, I asked some few people whether a single tenure is a better option than a double tenure. Before I take any decision, I ask people. But  that isn't the end of consultations; the major thing is that before I can even send such a bill to the National Assembly, I must consult the governors because any constitution amendment involves the states and if they aren't at the same pace with you, there is no way such an amendment can easily sail through.
'So, I haven't even discussed with the governors. I have never. Though, I have mentioned it to one or two; even the leadership of the National Assembly. Yes, I might have mentioned it to one or two persons, but not the formal group consultations.
'People are saying it is elongation of tenure and people were already holding meetings and we had to issue statements that it has nothing to do with elongation of tenure. The tenure of Jonathan Goodluck and Namadi Sambo will end on 29th May, 2015. That's the provision of the Constitution.'
Speaking on the need to instill party discipline, he warned that acrimony and anti-party discipline would no longer be tolerated.
'I learnt that some members of the party are assisting opposition parties contesting our victories in some states. We will not accept that as a party. If you think you are too big for us, please leave PDP.'
Acting National Chairman, Alhaji Kawu Baraje, said that recourse to litigations to settle party dispute would no longer be tolerated by PDP.
'Over time, we observed that members have cultivated an unbecoming attitude of taking the party to court without exploiting the internal mechanisms of conflict resolution and other amicable ways of resolving grievances.
'We urge our members to remember that we have an inclusive constitution which if properly followed, will address most, if not all, of the contentious issues that we are facing today,'  he said. Baraje also said that a waiver would no longer be granted to chieftains who dumped  the party only to return to seek elective offices.