EMENIKE JOINS SPARTAK MOSCOW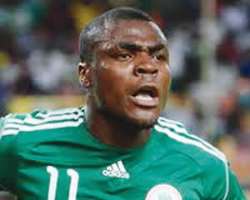 Emmanuel Emenike
Fenerbahce have sold Nigerian forward Emmanuel Emenike to Spartak Moscow. He was detained over a Turkish match-fixing allegation but released without charges earlier this month.
Fenerbahce notified the Istanbul stock market on Thursday according to an AP report, without saying which clubs are interested in Emenike, who has been selected for Nigeria's squad for the August 9 friendly against Ghana in London. He was sold for $10m.
The club's shares have plummeted more than 35 percent in the stock market since early July when its President, Aziz Yildirim, was jailed along with about 30 other suspects in the match-fixing probe.
Fenerbahce faces the threat of losing its league title and possible relegation along with some other clubs probably before the start of the season on September 9.
The Nigerian forward joined Fenerbahce during this summer transfer and was to feature for the Turkish champions until 2015 in the first instance. The Turkish giants signed Emenike from another Turkish club Karabukspor.
Fenerbahce did not disclose the transfer fee but the deal became a subject of controversy when the match-fixing allegation made the headlines in the European country.
It was alleged that the transfer offer to the Nigerian was part of a well coordinated match-fixing scheme. Emenike has since denied the allegation. His contract with Karabukspor was slated to expire in June 2013. He joined the Turkish team only in 2009 and established himself as one of the top players in the Turkish league.
When the Turkish Police made several arrests on the match-fixing issue, the striker was freed after being in custody for five days as part of a widespread police clampdown on illegal dealings in the Turkish league.
A court ordered his release insisting that the player had no case to answer in the investigations.