Abaniwonda: Family Say Politician Died In Freak Accident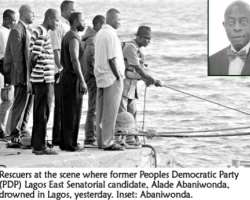 LAGOS, July 26, (THEWILL) – The family of the late Lagos politician and ministerial nominee, Mr. Mustain Abaniwonda, who drowned in the lagoon last week, Tuesday refuted insinuations that he committed suicide.
It described his death in a statement as "an unfortunate freak accident and nothing more."
Chief Tunde Odanye who signed the statement on behalf of the family said "investigations including several inspections of the site of the accident support this conclusion and anyone who knew the deceased or interacted with him during his days would collaborate this. Furthermore, most people who have suffered the inconvenience and in-equilibrium nature vents on us when it comes calling sharply and suddenly and without notice whatsoever, would understand that what happened on that fateful day could have happened to the best of us."
The statement said the late Abaniwonda "was diabetic, asthmatic, hypertensive and survived two mild strokes in his lifetime," saying in spite of that he still rose to become a General Manager in the former Habib Bank Plc and later Managing Director of Crystal Bank Plc.
The family therefore warned media organizations to steer clear of false speculations that might necessitate legal altercations.
"We request media houses that have chosen to go overboard in their reporting thus far, to henceforth, steer clear of wild and specious speculations and limit themselves to facts within their knowledge, thereby staying within the ambit of fair comment as prescribed by law.
"We sincerely hope this request would be given the serious consideration it deserves to save all concerned needless legal entanglements," the family added.