I DON'T WRITE TO MAKE MONEY – DAWN AGU, TEENAGE WRITING SENSATION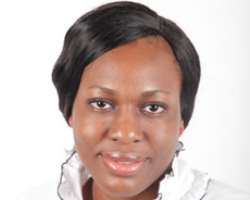 For the 18-year-old Babcock University undergrad, Onyekachi Dawn Agu, it is a new dawn for her writing. With the release of her debut poetry volume, On the Crest of Passion, the sky is the limit for the Mass Communications student, who has joined the growing list of Nigerian teenage writers proving their mettle on the crowded Nigerian literary scene.
On the Crest of Passion is a poet's excursion into an antithetical world where pains and happiness endure side by side. The poet opens our eyes to the emotional treasures, as well as inconsistencies, in our lives.
At a very young age, Agu had already become a bibliophile. Her parents had a rich library at home, which enhanced her reading habit. Besides, she has her literature teachers in both primary and post-primary schools to thank for: they exposed her to literary works.
But the creative latent in her was only explored in 2008 on a fortuitous note, though. After she lost her elder sister, she took to the pen as an escapist medium. 'We had a special bond, and her death made me develop more interest in writing in order to ease the pains of her departure and make me think less of her,' she recalls on a visit to The Sun corporate headquarters in Lagos.
It took her only a year to write all the poems in the collection. Growing up wasn't all about playing hide-and-seek games with her peers. 'I read many of Chinua Achebe's books, as well as Wole Soyinka's book,' she discloses in a dulcet tone.
However, Agu would not like to take credit for the title of her book. Mr. Ugochukwu Wogu, who wrote the explanatory notes to the poems, was the one who offered her a list of titles to choose from, and she chose On the Crest of Passion to underscore her poetic concerns in the poetry volume.
Leafing through her work, one would find a strong bias for abstract and emotional poems. How does she draw inspiration for her poems? She replies with a smile, 'My inspiration comes from many things: things happening around me; stories I hear. When people talk, I listen to them. My inspiration comes basically from everyday activities and my interaction with people.'
At her academic level, she it is imperative to burn the candle at both ends to pass her exams. So, you wonder when she writes. 'I don't have a particular writing routine,' she intones, adding dryly, 'I write whenever I have the inspiration.'
Some of her poems suggest experiential elements, for instance, 'A Father's Love'. Your guess isn't off the tangent. 'I wrote that poem essentially as a kind of gift to my dad on a Father's Day, as a way of thanking and congratulating him,' she says like a shrinking violet.
Probably music and acting would appeal to most of her contemporaries than creative writing, who might see it is an easier route to hog the limelight. Isn't she scared of a penurious station of life as a writer rather than the glitz of the entertainment industry? 'I am not writing to make money; I am writing for the passion I have for it. As long as someone reads and finds comfort in my work, I am satisfied. That way, I will be propelled to write more and leave behind a legacy,' says the poet.
At school, her colleagues are already doffing their hats for her, and that is a sure way to delight the cockle of her heart. 'They feel I have something going for me, and they congratulate and encourage me to keep writing,' she says with a sunny dispatch.
Agu doesn't have her head in the clouds, despite her modest achievement as a youngster. She would be most gratified if her book would find many fans among the junior secondary school students. The book will be launched in August in Umuahia, Abia State. The idea behind the launch is to, among others, create more awareness on the offering and make young people like her develop interest that they, too, can do it.
After On the Crest of Passion, what next? The writer says she has another work coming up, a collection of poems she completed something. Always champing at the bits, she is already working on a novel.
Most Nigerian female writers seem to be gravitating towards prose, especially since Chimamanda Adichie blazed the trail in international recognition for the new generation of Nigerian female writers. So, what impetus did she get to romance with bardism?
'It isn't like I don't have interest in prose. But it is like poetry is already fading away, and we have to keep the spirit alive. Poetry is a good way of expressing deep thoughts and feelings, yet another person can read it and feel the same emotion with you. It helps you sharpen your imagination,' she carols enthusiastically.
By offering explanatory notes to each poem in the collection, it could give the volume away as rather simplistic, at least from the perspective of the mature reader. The reason for that is, however, twofold. 'If you look at the book, it specifically has explanations and questions. I want the book to be used a school book. I also want any other reader that may not be into poetry to read it and grab something from it,' she explains.
Interestingly, Agu's family didn't allow her to do the ploughing on the creative field alone. 'I got encouragements from every member of my family; from my brothers, sisters to my parents. My mum and dad would sit down to read several times, and my mum would crosscheck the English to see whether it suits well. My teachers at all levels played their parts, too, encouraging me,' she informs.
What really comes to her mind when she picks pen and paper? 'It depends on my mood,' she tells me. 'Those who have seen my book expect more from me.'