EHIOSUN, ZENKE IN VISA HITCH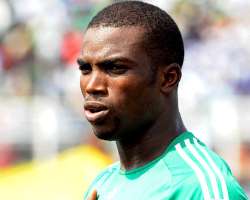 Super Eagles striker Ekigho Ehiosun and Simon Zenke could not travel with their Turkish club Samsunspor to the Netherlands on Wednesday owing to a visa hitch.
A club contingent of 25 players, six coaching staff and four medical officials flew out for a training camp without the Nigerians.
But Zenke, who emerged top scorer last season to help secure the club's promotion to the Super Lig, remains optimistic.
He is confident the club will sort the visas in the next couple of days to enable them to join the 35-man contingent at the training camp.
'It's just a little hitch that should be resolved in the next couple of days,' Zenke tells KickOffNigeria.com.
'Obviously, the busy schedule meant the application was put in late but we'll be with them soon hopefully by the weekend.
'It's being handled by the club and we are training on our own back in Samsun until that is sorted out.'
Zenke says he is pleased by the arrival of Ehiosun.
Despite a revolving door of football business, he has seen the void created by the departure of compatriot Akeem Agbetu filled with the loan arrival of the Eagles hitman.
Zenke and Agbetu played a key role in the Samsunspor's success in ending a five-year spell in second division to earn promotion last season.
Agbetu has since left for promotion-chasing second division side Karsiyaka but Zenke, who scored 15 goals last term, is delighted with Ehiosun's arrival.
'It feels good to have him here, he's a talented and brilliant chap. The club is happy to have him but I'm extremely delighted to be honest,' the former Nigeria youth international said.
'I'll miss Agbetu but that's football. With Ehiosun here now I think we can be another major force.
'Always good to have a countryman with you, and the press are talking about the partnership, but we also need to work harder, remain focussed and give our best to the club.'
Samsunspor have strong financial backing and are expected to compete well in the top flight in the 2011/12 season