Boko Haram: MEND threatens attack, Accuses Jonathan of Double Standard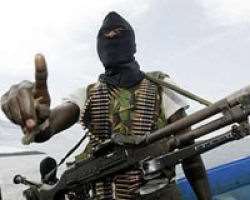 Militants in Nigeria's southern oil delta on Thursday issued a new threat to resume hostilities as authorities battle a wave of bomb attacks blamed on Islamists in the north of the country.
"The Movement for the Emancipation of the Niger Delta (MEND) is preparing very hard for the resumption of hostilities with the training of new fighters joining our various camps," the group said in a statement.
After a lull in attacks in the Niger Delta, Africa's largest oil-producing region, following an amnesty deal two years ago, renewed violence would pile pressure on the administration of President Goodluck Jonathan.
Jonathan is the first president from the Niger Delta.
MEND accused government of applying double standards after authorities announced that dozens of Islamists arrested recently in connection with the incessant bombings and shootings in the north may not be prosecuted.
The country's intelligence agency two weeks ago said it was holding over 100 suspected members of the Islamist sect known as Boko Haram with a view to reform rather than taking them to court.
"This is a blatant disregard to all Christians in Nigeria killed with impunity and also an insult to all Niger Deltans as the government is displaying double standards as regards the Niger Delta indigenes falsely and unlawfully arrested over the October 1 bomb blast carried out by our field operatives," it said.
 
The group, whose attacks in previous years slashed oil production by around half, last staged a major attack in the capital Abuja during October 1 independence celebrations. It set off two car bombs near the venue of official ceremonies, killing 12 people.
MEND, which has not followed through on attack threats in recent months, said its new offensive would have ripple effects "both nationally and internationally, very soon." It claims to be fighting for a fairer distribution of oil wealth.
Nigeria is roughly divided between a mainly Muslim north and predominately Christian south.