CISM 2011: NIGERIA TEAM OFF TO BRAZIL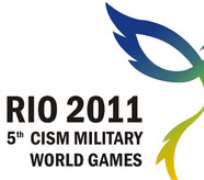 By JACOB JACOB
The Nigerian contingent to the 5th World Military Games flew out of the country for Rio de Janeiro  , Brazil last night.
The World Military Games will be holding in the Brazilian city between July 16 and 24 and Nigeria will be featuring in 3 sports, namely boxing, judo and shooting. The executive secretary of CISM Nigeria, Colonel Olatoye Ola Uthman who is among the contingent that left the country last night, Nigeria will be fielding 6 judokas (2female and 4 male) 4 boxers and six shooters.
'We are confident we are going to do well,' Olatoye said, explaining that two of the boxers on the trip  were among Team Nigeria boxers camping for the All Africa Games. Continuing, the Army Colonel said that the athletes had seven weeks of intensive camping before the trip and all the judokas were part of the just concluded National Sports Festival in Port Harcourt.
'Before the athletes were selected, we held an inter-service games before they went into the training camp and they have been handled by seasoned technical staff,' Olatoye stressed
He said 'the boxers are being handled by an Olympian, Warrant Officer Kehinde Aweda while the judokas are handled by two ex-national athletes, Staff Sergeant Peter Ngobua and Petty Officer Omoyajowa while Brig-General Lonsdale Adeoye takes charge of shooting.'
He said Nigeria was attending the games for the first time since the Croatia Games in 1999 and vowed that with the level of preparation the team had gone through they were bound to bring back honours for the country .