NFF TECHNICAL COMMITTEE TO DETERMINE EGUAVOEN'S FATE - CHUKWU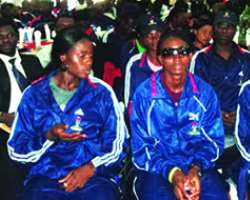 Nigeria Football Federation, (NFF) technical committee has mandate to determine the fate of the embattled Under-23 Coach, Austine Eguavoen, after the better forgotten All Africa Games ouster, according to coach Christian Chukwu.
Speaking with the Daily Sunsports yesterday on phone, Chukwu said the technical committee would soon converge to examine what led to Nigeria's elimination from the competition in Kumasi, Ghana.
Chukwu said the committee would also invite Eguavoen to brief them on what happened in Kumasi after they had watched the tapes of the match.
'Before NFF takes any decision on Eguavoen, it has to look at the report of the technical committee and its recommendations. The coach would be asked if he did not get enough support from the NFF to prosecute the match. The committee would also like to know if the coach didn't get the cooperation of the players. We would take Eguavoen up on many issues before submitting our report to the NFF for implementation.
'Although, NFF had already raised a voice concerning the matter. As a responsible body, it was expected, but things have to pass through proper channel. Football is about winning and losing and when things are wrong, we need to go back to the drawing board for amendment. It was painful that Nigeria lost again to Ghana. We never bargained for that defeat. We worked very hard in all our previous matches. We would like to know what went wrong in Kumasi.
Chukwu said the technical committee would definitely look for a way out for the team to pick the 2012 Olympic Games ticket. 'It is important that we meet on this issue to correct our mistakes. We have to know how to get out of this mess. Nigeria is a strong force in African football and we need to keep our teams in great shape ahead of other international engagements,' Chukwu said.