CISSE TO EARN £2.1, SIGN FOR LAZIO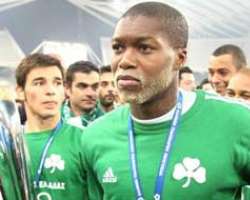 ROME,  (AFP) - France striker Djibril Cisse will sign for Lazio from Greek side Panathinaikos on today, according to reports.
Cisse will earn a reported 2.1 million euros a year, while Lazio will pay a fee of six million euros ($8.4 million), according to Italian news agency Ansa.
Djibril Cisse
The player, 29, who was the top scorer in the Greek top flight in each of his two seasons with Panathinaikos, becomes Lazio's seventh summer recruit.
He is due to arrive in Rome Tuesday to undergo a medical before signing a four-year contract.
Europa League hopefuls Lazio earlier agreed a deal with Lithuania defender Marius Stankevicius of Sampdoria.
The club have already captured German striker Miroslav Klose (Bayern Munich), as well as Italian international goalkeeper Federico Marchetti (Cagliari), Albania midfielder Lorik Cana (Galatasaray), Bosnian full-back Senad Lulic (Young Boys Bern), and French-born full-back Abdoulay Konko (Genoa).