EXCLUSIVE! ALLEGED DALLIANCE WITH EX-NIGERIAN PARLIAMENT SPEAKER INI EDO FINALLY SPEAKS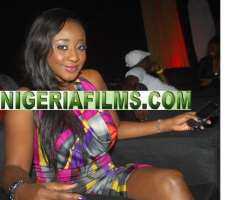 "I have never met Ex-Speaker Dimeji Bankole; neither did he lavish me with monetary gifts."
The news has dominated the Nigerian, African and international media: Nigeria's immediate past Speaker of the National Assembly (Congress) Dimeji Bankole – the official No. 4 citizen of the African leading country was arrested by the crack team of the nation's economic watchdog agency – the Economic and Financial Crimes Commission (EFCC) on Sunday June 5th on the eve of what would have been his official handing over to the new speaker at the 7th session of the Nigerian National Assembly.
The former speaker had earlier been invited to appear at the commission's Abuja headquarters to answer questions concerning murky details about a 10 billion Naira loan (about $52.000.000) he had gotten from a local bank, and whose disbursements raised questions bordering on corruption and misuse of public funds.
He had also been accused of inflating contract fees with the intent of profiting from them. The speaker had routinely ignored the invitations until he was picked up and detained. After spending over a week in detention, the ex-speaker is currently out on bail, having satisfied the stiff and draconian conditions imposed by the judge.
The fall of Speaker Dimeji Bankole from grace to grace has elicited sneers and jeers from a cross-section of the Nigerian society and had also produced numerous conspiracy theories on what motivated him to be so reckless. Two weeks ago, the media was awashed with one of such theories; that the speaker Dimeji Bankole had kept a harem of women – women with high maintenance needs and in order for him to satisfy their material cravings, he had to engage in unethical conducts, of which he is paying for today. Two prominent women were named in the story – a former senator and the defeated gubernatorial candidate in Kwara state – Senator Ggbemi Saraki and a leading Nollywood actress – the delectable Ini Edo. According to the story, Speaker Bankole had spent billions of Naira on both ladies and was alleged to have bought a huge mansion for Ini Edo in Maitama – one of the choicest areas in Abuja, where an average home goes for about $2 million.
As the humbled speaker is grappling with his fate and a possible life in the dungeon, Ini Edo is aghast and bewildered by her linkage in the sordid saga. The actress who seems to be the cannon fodder for gossip and unsubstantiated rumor in Nollywood cannot imagine why the media takes delight in writing stories about her that are completely false and misleading. For over an hour penultimate Saturday, Ini Edo bared her soul to The Diasporan Star and spoke candidly on the whole saga and why she suspects certain people who harbor unrestrained hatred toward her may be the harbinger of the tall tale.
"I am a happily married woman and Dimeji Bankole did not spend a dime of his on me."
"I have never in my whole life met Dimeji Bankole" Ini Edo had started "and I am greatly pained by the media's linkage of my name in the whole saga. I have only seen Bankole, like millions of other Nigerians on television. If I ran into him on the street, I would not recognize him. For a journalist to cook up such a story and link an innocent person like me to it is truly shocking. Do they realize that I am a happily married woman? How would they feel if they were in my shoes? If I had the kind of money they say Dimeji Bankole spent on me, I would not be in Nigeria today. I would be travelling the world – visiting some exotic vacation spots and having the time of my life."
On the alleged home Bankole bought for her in Maitama district of Abuja, Ini was short for words "I don't own a house in Maitama, and no one bought me a house there. Again, how can a journalist be so reckless with facts? A little investigation on their part, or merely reaching out to me when they got wind of the rumor would have saved the journalist the embarrassment of putting out this false story. The whole nation knows that Dimeji Bankole has been in the custody of the EFCC, if it were true that he had spent part of the money on me, as reported by the media, wouldn't the EFCC be on my neck and would have invited me to their office for me to explain what I knew about his source of wealth? But here I am, in my house, cooking food for my husband, and no one from the EFCC has invited me. The agency I believe must be laughing at the media for falling for a ridiculous story like this. The fact remains, I have never met Dimeji Bankole, I am a happily married woman and Dimeji Bankole did not spend a dime of his on me."
Asked how such a negative story could develop wings and fly, you could feel the pain in her voice. "You know there are certain people that have made it a part of their daily routine to manufacture stories about ini Edo – it is their past time, something that gives them joy, but the God I worship is my shield and arrow. Whoever that manufactured such a story should ask God for forgiveness. What does it pay and profit such a person to attempt to destroy an innocent person, who is using her God's given talents to bring joy to her fans? Sometimes I read stories about me, and I wonder why do they do this? Create falsehood and give it a life of its own – it's so unfair. But their antics will not stop me from giving my fans the best that I have got, and I thank my fans for standing by me, and separating these lies and fictions from the real Ini Edo. That, to me, has been very, very comforting."