CANADA COACH PRAISES FALCONS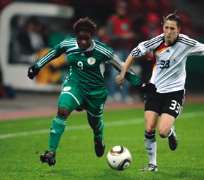 Desire Oparanozie of Super Falcons (left) in an international friendly against Germany
Canada coach Carolina Morace admitted that the Super Falcons had some edge of her team in the last Group A Women's World Cup match in Dresden, Germany on Tuesday.
Nigeria defeated the Canadians 1-0.
Morace said, 'We played against a Nigerian team we hardly knew much about. We did elaborate scouting work on them but they turned out completely different from what we expected.
'That was a huge problem. It made a lot of difference. Skill to skill we would have matched them but they had a lot of tricks like the fox. On that they got the better of us. They were quite smarter and turned our scouting reports to nothing.'
The Falcons coach Eucharia Uche lamented Nigeria's early exit from the tournament, saying they were sad returning home.
She said, 'But it is sad and a minus for us that we are leaving so early instead of getting into the next stage. We reached the quarterfinals in 1999, which means that by now we should have been battling for semifinal place instead of going home to watch the rest of the competition on television.'
Now the Canadians face an uncertain future just six months from the qualifying tournament for the 2012 London Olympics.
'It's tough, it's tough to walk away from a World Cup and not get a point, and not get one bounce,' said veteran goalkeeper Karina LeBlanc.