EUCHARIA LAMENTS EARLY WORLD CUP EXIT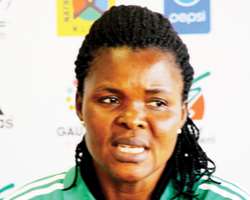 Nigeria coach Ngozi Eucharia Uche says her side should be on their way to the final - not bowing out of the Women's World Cup, despite their 1-0 win over Canada on Tuesday.
The Falcons finished their Germany 2011 campaign on Tuesday with three points in Group A as midfielder Perpetua Nkwocha scored the 84th minute-winner over the Canadians when the game resumed following a 10-minute pause for a power-cut.
The last - and only - time the Falcons have reached the women's World Cup quarterfinals was in 1999 and Eucharia says her team should be heading into the knock-out phase, rather than heading home.
'We were out of contention from the tournament's outset when we lost to France and I don't think we will make that mistake again,' said the former Ufuoma Babes striker, who has sparked controversy during the tournament by branding homosexuality 'dirty'.
'This is a plus for the game in Nigeria. We should be talking about playing in the final, not going home, but we are lagging behind in Africa in terms of preparations, in terms of league.
'Lots needs to be done, we need to catch up with the rest of the world.'