I'LL FALL SICK OUTSIDE FOOTBALL -UMEH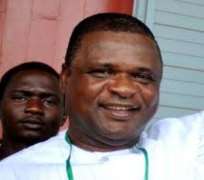 As the Yoruba myth of abiku, he has been in and out of football. From being manager of the Green Eagles to his current position as the first vice president of the Nigeria Football Federation (NFF), Chief Mike Umeh seems to have paid his dues.
Speaking with Daily Sunsports in an exclusive interview in Abuja recently, Umeh, delved into his exploits in the game, the current crisis rocking Nigerian football to its foundation, the Super Eagles and the national team coaches. He said that football is his passion and healing tonic.
Do you regret being part of the present board?
My answer is an emphatic no. I came into the board from the rank and file of an election from my constituency in Anambra State. It was the congress that made me the first vice president of the Nigeria Football Federation (NFF) not even Mr. President.
If you have no regret are you enjoying the crisis?
You call it crisis, but I don't see it that way. I see it one of those challenges one must go through in life. If you are doing well or badly, there must be challenges along the line.
What kind of crisis are you talking about when we are winning almost all our matches?
We are giving Nigerians what they want. We gave Nigerians good Super Eagles coach and coaches in the national teams doing pretty well. Since we took over the management of football, all the national teams have been excelling. We are better now than before.
What are your fears for the board?
I have no fears whatsoever. We have professionals in the board. Maigari, Johnson and I are businessmen, we also have two practising lawyers, a permanent secretary from Sokoto, other persons working in various ministries and politicians. We have credible and gainfully employed persons on the board that don't depend on the federation to survive.
They should give us chance to complete our four-year tenure. What should I be afraid of when it is obvious we will never be the last board to manage Nigerian football? We have been able to do our best under the present situation and, of course, we have been getting it right.
Are you saying that the Glass House is not on fire?
No way, we are not on fire. How can we be on fire because of Harrison Jalla, and Mr Jareth, the two Js? They cannot put us in crisis because FIFA has banned NANF as a body, so we don't have any reason to listen to them. Jareth joined NANF to unseat us because he lost an election. He cannot succeed because we are more credible than them. If he likes, let him know God, we too know God.
Do you lend the federation money in crucial need?
If we are in such a big crisis and the body requested my assistance, which will be reimbursed as a free interest money, why not. That is the reason for being in the board; to salvage the situation if the board is in crisis.
That is where the interest to be part of the federation is, I go to contribute not to take. This is the area where I deserve commendation because I do whatever I do for the federation as a recreation not the attraction of extacode of the office.
Why are the members fighting over trip?
As I told you, I joined the federation because of the passion I have for the game. I have spent many years in the administration of football. If observe very well, you will know that I have not been on any trip apart from the one to South Africa in addition to the Confederation of African Football (CAF) congress in Sudan but I'm not bothered.
I don't really understand their allegation that we fight over trip when we have only a few members on the board. There are enough trips for all of them and they have to do those trips to give the boys and girls the moral support.
Is it true that the secretary general of the NFF is zoned to the South-west?
Who zoned it? Well, I have to admit that, with time, we will balance all these things. It is not too good when federal character is not reflected. I'm aware that if you look at the trend formations in the federation, it seems as if zoning is no longer in existence because we based our choice on competent hands.
The acting secretary has been very good and a wonderful person. He also knows the job and you can't take that away from him, but let see how it goes in future. I know why people are worried. We have chairman and executive secretary from the north, but as I said, we picked officers based on competency. Our motto is if 11 players from the same family are good enough to play let them prosecute the match.
When are you retiring from football management?
Well, I cannot retire because if I do, I will fall sick. I enjoy the game very well right from my childhood. Though, I did not play up to professional level, I have followed it religiously. Emmanuel Okala was my schoolmate and that was when I developed interest in the game. I went to Lagos early and I used to be with Okala then with Rangers and Green Eagles.
Having spent many years in football, what are those things the game has done to you?
Well, as you know, football is a passion to me and I want to be identified with it. My target is to identify myself with the transformation of Nigerian football. Football has been unattractive in Nigeria in the past especially the Super Eagles, and we are bent on transforming the game. With the victory over Argentina and other successes recorded, I think we are on course.
As President Goodluck Jonathan said, there is transformation going on everywhere and I want to be part of it. I have been in and out of football but I want my impact to be felt. I have never occupied this sensitive position in the football house. I have only been an executive member before rising to become the team manager of Super Eagles and now that I saw myself in this position, I want to say that I'm enjoying what I'm doing now.
Who do you think is the longest serving State FA chairman?
Just as Sepp Blatter is one of the longest serving president of FIFA and Issah Hayatou one of the longest serving president of CAF, I think it is an honour to be one of the longest serving State FA Chairman.
Anybody can do it but it is difficult to get somebody to do it the way I do it. I spent my resources because I know the powers of football. I have that serious passion for the game.