Toyin Aimakhu dated my boyfriend, but I didn't fight –Portia Yemahan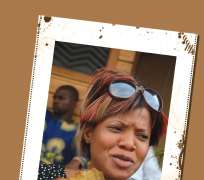 After winning the Next Movie Star TV reality show in 2007, Portia Yemahan became a celebrity. Before then, the pretty actress was only a struggler in the movie industry and few people knew much about her until she fought with fight with Toyin Aimakhu over a guy. The actress states her own side of the story in this interview with 'NONYE IWUAGWU. You won the Next Movie Star reality show last year and not much appears to have been happening since then.
It is not really my fault. I was not based in Lagos, so it took me one year to come to Lagos. I have to make all the contacts, meet producers, directors, marketers and all that. It was quite challenging because I didn't know my way around Lagos. I have to get someone to assist me with that. So, I spent the first year of my reign trying to find my feet in Lagos.
How has it been since you settled down?
It has been challenging. I have met some producers but they told me that the stable through which I won the reality show should produce the movie that I should feature in and all that. But I still have to let them understand that the whole concept of the show is to bring out new talents in the industry. It is just a talent hunt show.
Are you saying that the reality show has not helped you in any way?
It has, because some people appreciate the show. Some appreciate you as a person, but some just don't. I don't know why. I don't have any specific reason. It is a 50-50 thing.
In all, how many movies have you shot?
I shot my own movie Black Friday, Dancehood, D8 and Flitz. So, I have done like four movies and one sitcom in two years. I told you that I had to use one year to settle down. Next year, I hope to do more movies.
How is Black Friday doing in the market?
It is not even in the market yet because I am very scared of pirates. I want to get it right. I don't want to rush into anything. I am waiting for my time. It is a very good movie. We had more than four nominations at the last AMAA award, though we won nothing. But being nominated alone was something for me. So, I don't want to be in any rush. I just want to take my time to put everything in place.
You mean you produced the movie?
It was all my idea. Three people actually produced the movie, but it was all my idea.
Why did you enter for the Next Movie Star show in the first place?
I think I have to take you back a little. I am not really a movie person and I was never an actress before. I only accompanied my friend to an audition and the director wanted me to join in the auditioning. I complied and got a role. It was beautiful. There was life on set. Then I did another job with Andy Amenechi. I did like four to five scenes. The movie was called Fatal Seduction. That was when I fell in love with acting. That was the same period I saw the NMS advert in the papers and on the TV. I had watched the previous year's edition, so I just decided to try.
But then, I am not even a slim person. I wondered if I would be noticed let alone picked in the audition. All the same, I went in for the Abuja auditioning and from there, they asked me to come down to Lagos, where I was listed. I felt out of place seeing other people with their hot makeup and all that. I told myself I wasn't going to get to anywhere in the competition. But then, I was lucky and got into the house. I then prayed that I should at least be among the top six but I eventually became the winner.
What education do you have?
I have a diploma in Computer Science from The University of Abuja. And because I couldn't gain admission into the university to study Computer Science, I did another diploma course in Banking and Finance. While I was waiting for direct entry into the university, I had to apply for a job in a bank. It was actually an industrial training job after which I applied as a contract staff and got the job.
But then, I felt stereotyped and couldn't really flow in that area. So I got another job in the Internal Audit Department of the National Assembly, and that lasted for seven months. Later, I got admission to study English, but when I came in for the NMS reality show, everything changed. I am actually working on my admission into LASU or UNILAG to study Thearte Arts or English. Hopefully by next year, I will get into school. But it is going to be a big challenge because so many things are coming up. But God will see me through.
What are you planning to do?
I am creating ideas and trying to develop so many things. I have a pet project which is about touching lives. There are so many things I will like to do next year. I will go to school, do events in some schools and get sponsors to back me up. All of that will consume time, especially here in Lagos where you can hardly keep up with two or three appointments because of traffic congestion. It is really challenging.
Where are you from?
I am from Edo State.
Your surname sounds foreign…
Yemahan is an Edo name. It means togetherness. As for my first name, my father has a flair for foreign names. My younger sister bears Kodak. I have another brother who bears Hero, another bears Thankful and another bears Maze. So, we all have funny names. Even my dad has a funny name–Bud.
Are your parents comfortable with you being an actress?
Yes. They are comfortable with the fact that I am doing this, because they were there when I was doing other things and I kept complaining about them. I was always upset with what I was doing. I was forcing myself to do the job.
You worked in a bank and the National Assembly. Don't you think that those jobs could be more lucrative than what you are doing now?
I probably would have made more money if I had stayed longer on those jobs. But when you work in a place and you don't feel fulfilled, you will feel out of place. I cared less about the jobs anyway. What I really wanted to do was to be a dancer. I love dancing but I was imagining how my parents would take it seeing their daughter becoming a dancer.
How come you say you dance well when you are on the big side?
I am very flexible. But then, acting suddenly became my first love.
We learnt that you fought with Toyin Aimakhu over a guy.
I need to get some things cleared. I don't think I can fight over a guy. It was just a misunderstanding. I know some magazines carried the story. Something like that actually happened, but it did not lead to a fight. It was not a fight at all. I don't even know the other lady in question. So, I cannot start fighting with her. It was a little misunderstanding that we cleared that day. It was really not an issue.
How come you allowed a babe to almost take your man?
She knows I am actually dating this guy. Funnily enough, I later found that it was the same lady that invited me for a job. Long before the incident, she called me and said she wanted me to do something for her. She said she was a young producer and she needed me in her movie. I told her I am a young producer as well and that we could do things together. The truth of the matter is that she actually knew I was dating this guy. I don't know why she did what she did. I think she should be in the best position to answer some of these questions. I don't know what happened. She just took my boyfriend from me.
Couldn't it be your boyfriend that asked her out?
That is the thing I don't really understand. Nobody is saying anything concrete. She denied some things; he is saying some things as well. He said she was a friend and she wanted them to work together. He wanted to bankroll a Yoruba movie production for a friend of his and they met at LTV.
That was how the whole thing started. He met her and she said she had good contact with some of these top actors in the Yoruba film industry. So, he thought she would be a good person to work with. She would help them to do the negotiations with the actors that would be on set. I didn't even know about it because I was busy with some other things. They told me about it and told me she was the lady helping them out in the movie, and I said okay.
When did this fight occur?
It was actually the first day on the set of the movie they were doing. I was talking with my boyfriend. She came and left. Then I started hearing rumours on the set. It was later I got to know that they were dating each other. She told me they had been dating for five months. I was surprised. He said that was not true. There were so many people on set that day, so I didn't want to cause a scene. When you have an issue like that, the media would always know about it. I tried to avoid that. I didn't want to discuss anything on that set. I preferred that we sort out our differences elsewhere and not on set where we had so many eyes on us. I don't know what just got into her. She decided to create a scene. I felt really embarrassed for her, because she didn't need to behave the way she did. She was shouting and saying that I had to leave the set.
Were you in the movie?
No, I had nothing to do with the production. It was a Yoruba movie.
So what were you doing there?
My boyfriend happened to be the Executive Producer on set. I was even shooting a movie then. I just finished working and I drove there, because they were shooting in my estate. I just drove there to see what was happening. I just wanted to hang out with them.
The same estate where you live with your boyfriend?
I live alone. I don't live with my boyfriend. Let's not go there, please.
Is he going to marry you?
I don't know. I will not say anything about that.
Since you are just growing in the movie industry, are you sure you will be able to cope with the scandals that come with the job?
I will say I am not a scandalous person. I am straight. Of course, everybody claims to be straight. As for me, I know what I want. I had a good upbringing. I know what is good and bad. I know what I am trying to build.
Some people appreciate it when scandal sells them, but I don't want that. I see it as someone trying to sell herself. It is not an issue, because that never happened. I didn't fight. I am trying to build an image for myself. So, why would I fight in public when I am not Mrs. Bash Ali? I will never do that. I swear to God. To say the truth, I have never fought before. I don't fight. I can't raise my hands against anyone.
But would you fight over this man if somebody wants to take him away from you?
I don't understand the word, 'take him away'. It is his decision. I cannot make any decision for him. He has his own mind. If it is God's wish for us to be together, we will be together. But if somebody is trying to separate me and my man, the only thing I can do is to pray. I can't fight. If we are for ourselves, we will stick together. I can't force him to stay with me. You cannot force someone to love you.
Do you think he loves you?
Yes, sure. When this thing happened, he felt very bad. He kept saying he was sorry. Well, I think, I know he really loves me.
Do you think you can go out with another man?
That is a very tight question. Why would I want to? I am okay right now and I don't have any issue in my relationship. I never want to talk about my relationship. In the past interviews I have granted, I never talked about my relationship, because it is my private life which I never wanted the press to get involved in. I wanted the relationship to work out well. This girl just came into the picture and blew everything up. That is why I am so upset.
Can you ever be friends with Toyin?
I would really need to understand her and her mindset. I hardly have 'beef' with anybody. It can only get to that stage if I am pushed to the wall. I don't understand her. I don't know what she was after. The five months she claimed they had been dating, she said in an interview that she had a boyfriend in London. So, how can you be dating someone in London and dating another person in Nigeria and then you still have some other issues with other people's relationship? Why are you involved in other people's relationship? I don't know.
Maybe that is her own way of gaining popularity or whatever she is looking for. She called me one day and said she was my sister because she is also from Edo State, and that she would never do anything to hurt me. She said I should just forget what had happened. I sent her a message that God would give her the man of her dream. She kept apologising and I told her it was okay. It is not that I am separated with my guy. That is all. I don't have any issue with her. The main thing is that it is hard for one guy to keep to a girl, but if you have one that appreciates you, I believe things will work. At least, she was able to realise her mistake.