FG FOCUSES ON EDUCATIONAL NEEDS OF ALBINOS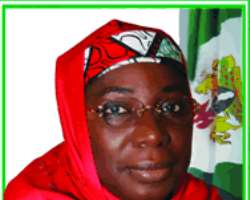 The Federal Government has directed its focal point on the educational needs of albinos, as the draft blueprint on Albinism Education in Nigeria was submitted to the Ministry of Education recently. The Education Minister, Professor Ruqayyatu Rufa'i, who received the report in Abuja, said finding solution to the educational needs of vulnerable groups of which albinos belong was part of federal government's giant stride in the establishment and implementation of the inclusive education programme.
Rufa'i said the plight of albinos to live healthy lives must be addressed effectively and the blueprint will create a policy framework for government to articulate programmes that will bring relief to albinos in the country. She also advised parents who deny their albino children the right to education to desist from the act, as every child has the right to education and other benefits irrespective of disability.
She also thanked all stakeholders and the committee for working so hard to come up with the blueprint that will aid albinos to perform better in schools.
Chairman of the Ministerial Committee on Albinism and Director, Basic and Secondary Education, Alhaji Garba Bello, said that the government is the first to intervene in the education of albinos and that the document drafted out by his team would not only impact positively on the lives of albinos but also the future generation of albinos.
Bello also gave a summary of the blueprint, which provided detailed information about albinism for awareness creation, policy formation and implementation, with the objectives to sensitize governments, policy planners, teachers and communities on the challenges of albinism. The focus also includes its effects on albinos with implication for their schooling and general well being as well as ensuring a learner friendly environment for learners with albinism.
The blueprint also states that albinism be streamlined as part of basic and secondary curriculum for better appreciation and understanding of those living with the condition.
The founder of the albino foundation, Mr. Jake Epelle pointed out some of the problems faced by albinos including social discrimination, an alarming scourge of skin cancer and unfriendly opportunity and environment for educational learning which according to him the blueprint will go along way to curtail adding that albinism is not a curse but a skin condition owing to the lack of melanin pigments and urged Nigerians to treat albinos with respect.