Rightful people not being honoured in Nollywood –Gbenga Richards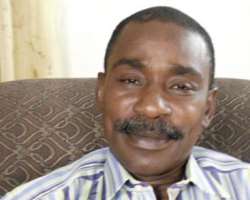 Gbenga Richards Gbenga Richards is not a new name in Nollywood. The veteran actor is well known for his roles as a serious, good guy actor in most of his movies. In this interview, he speaks with Onukwube Ofoelue on his experience as an actor, and his desires for Nollywood, both from government and the practitioners.
When did you begin acting?
I have been almost four decades in this industry. The first major thing I did was to represent Nigeria with Ogunde in FESTAC 77. I just left secondary school at about that same time. I was working with Punch Newspapers and was one of their cartoonists. Then I went to manage a group under Punch called Skylark Dancers; it was a promotional outfit under Skylark Records, a subsidiary of Punch Newspapers.
Did your FESTAC performance have an impact on you that made you tow the path of acting?
Well, I have always had the flair for acting right from my primary school days. Things started unfolding then, I was in the boarding house and will always do something for a social gathering every weekend. Eventually when I had the opportunity to work for Punch, it was another aspect of my life that unfolded as well, which encouraged me to go and read dance in the university. I am a choreographer, and I still dance. But a lot of people don't know that. Wole Soyinka would tell you that his sister trained me. It was not much of her training me; it was more or less both of us rubbing minds on our experiences. She was a lecturer in Ife, I was handling a group and when I came in, I became her instructor. Because I had the knowledge, she entrusted me with her practical class?
How does acting affect your family life?
For me, I have a wife who is very understanding, and belongs in the same field as I do. I think basically we have been able to lay good foundations for ourselves. The man should have respect for his wife too. Most times, the men are selfish. It is when we want to take control over our wives that there is always a problem. But when you give her a sense of belonging, respecting her view, her feelings, she will understand the nature of her job. Don't lord it over her. A man that is insecure is the one that tells his wife, or reminds her 'I am the head of the family'. That is insecurity problem. You don't need to say it; your family knows you are through your actions. So I don't have any problem with my family when I go on location; they have been very supportive.
Which of your movies would you consider your biggest success?
My brother, I don't think there is anything I have done I would single out as my biggest success. All I know is I have done quite a lot, and I have made impressions on the minds of people, and a lot of people still remember me by them. My best is yet to come because I am still under-utilised. I am an action actor, but I am still under-utilised.
Nigerians see you as a serious, hardworking, good, family-man, father-like actor. Do you usually choose those roles yourself?
I don't choose the roles myself, and that is the quarrel I have always had with AGN, the marketers and all that. You should not stereotype an actor with a particular role, it's very bad. You limit him from exploring himself, his hidden talents. An actor should be allowed to explore. I play any role, from a hermit, to a drug addict, to an alcoholic, to a madman, to a wife-batterer, to a seriously, calm, decent man. All these characters are for us to see in our neighbourhood and environment, so why can't we adapt? That is why some of my colleagues, the new ones who pressmen celebrate, hardly go for training.
What have you done in the past?
Well, the one that made me so known was Mirror in the Sun, where I played Folabi. I have done a lot with NTA way back then too. There are so many of them. But there are some that I personally like because of the accolades I have gotten from them- Betrayal by Love, which I did with Emeka Ike, New Jerusalem, The Five Apostles, Fighting Machine, and of course, the one we did with Femi Lasode called Sango. There are quite a number of them, I can't quite remember everything.
What would be your biggest regret in the acting industry?
My greatest regret in this industry is that the rightful people are not being honoured. It is very sad. I can give you a long list of people who ought to be honoured, but in the length and breadth of this country, either streets or buildings, or airports or monuments, none is named after any of them.
Now that the president is beginning to pay interest in Nollywood, what advice do you have for him on the arts?
I have always believed in him - I met him once in Bayelsa, and he proved himself as a governor, and as a president. I believe every profession will feel the impact of Mr President. I just want to tell our leaders to be God-fearing, that's all.