ACN Urges GEJ To Stop Systematic Annihilation Of Its Members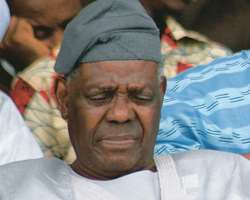 ACN NATIONAL CHAIRMAN BISI AKANDE.
ABUJA, May 15, (THEWILL) - The Action Congress of Nigeria (ACN) has urged President Goodluck Jonathan to move quickly to stop the ongoing systematic annihilation of the party's members and supporters in Benue and other states, following Friday's murder of a key member of the ACN in Benue state, Charles Ayede.
In a statement issued in Lagos on Sunday by its National Publicity Secretary, Alhaji Lai Mohammed, the party warned that it will not stand by and allow the killings to degenerate to genocide against people whose only offence seems to be that they are members of the ACN.
It said if President Jonathan is sincere about his much-quoted statement, that the political ambition of anyone is not worth the blood of any Nigerian, then he should step up to the plate today by taking measures to end such killings, even when the elections have ended.
''This is the time to tackle this issue, not when those being targeted decide to fight back and things get out of hand, and the government then resorts to setting up a panel to find the cause, as it happened after the post-election violence in several northern states,'' ACN said.
The party said Ayede's gruesome murder falls into a pattern of threats and attacks against ACN members in Benue, and that it is part of a campaign aimed at frustrating the party's decision to challenge the election of Gov. Gabriel Suswan at the Tribunal.
It said the campaign to frustrate ACN's decision to tackle issues of electoral malfeasance at the various tribunals are also being carried out in Kwara, where a court bailiff was beaten up ny agents of the PDP-led state government when he went to serve a court order in the government house, and all ACN billboards destroyed to show PDP's displeasure at the court order.
ACN noted that the post-election killings and harassment have continued because the federal government that should tackle them have either chosen to look the other way or to feign ignorance, even before the election, citing the situation in Akwa Ibom, Taraba and Edo, just to mention a few.
''In Akwa Ibom, many of our members were attacked and killed before the election, and such acts have not stopped even after the election. In Benue, several of our top members, including Young Alhaji and Gen. Onoja, were attacked before the election.
While both Young Alhaji and Gen. Onoja managed to escape with their lives, Gen. Onoja's PA was killed. In Edo state, one of our Senatorial candidates also lost his PA when he was attacked.
''It is glaring that these attacks and killings are state-sponsored. That is why the police have not been able to stop them. Or will the Inspector-General of Police claim he is not aware of these dastardly acts? Can the Director-General of the State Security Service also claim ignorance? Are those being killed no longer Nigerians just because they belong to the ACN? It is time to investigate these killings with the aim of stopping them.
''We do not want to believe that President Jonathan will only be concerned about violence when it is perpetrated against his party, the PDP. After all, he is the President of Nigeria, not that of the PDP,'' ACN said.