WHERE IS MY FATHER?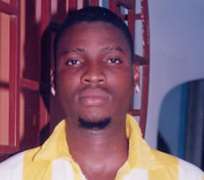 Mrs. Leticia Rosey Wilson, a Ghanaian living at plot No 357 Kakraba, Kasoa -Nynanye, Accra, Ghana has not known peace since her son Emeka Chukwuma turned 23. Ever since, he has always insisted on seeing his father, a Nigerian, Mr. Emeka Daniel Ugochi.
Ugochi, a journalist with the Anambra Broadcasting Corporation of Nigeria at the time, impregnated Wilson while in Ghana. He promised to come back but never did.
While doing a course at the Institute of Journalism, Accra, Ugochi and Leticia became friends. One thing lead to another, she got pregnant for him and had a son.
According to Wilson, Ugochi became her boyfriend when she left secondary school and was waiting for admission into higher institution. Ugochi was a student of Ghana Institute of Journalism (GIJ) then. That was in 1983/84.
Wilson told Saturday Sun: 'By the time he was to go back, I got pregnant and I told him about it. He came to see my parents and told me that he will go and see his parents and come back for us. So after delivery, I wrote to him about the baby and he replied, informing me what the boy's name would be. He wanted the boy named Emeka Chukwuma. He later said that he was traveling, had a problem and was arrested. Since then, I did not hear of him again'.
Fate played further tricks on Wilson. Her mother's house got burnt and all the documents therein were lost. Thus she lost Ugochi's contact. As times went on and the boy became more mature, he began to ask after his father.
According to her, 'whenever he comes back from school, he will be asking to see his father. So, I promised him that I would save some money and get somebody to go with him to Nigeria because at the moment I am married. I cannot go to Nigeria with him and, most importantly, I don't know where to look for him.
'I decided not to put my eggs in one basket. I went to GIJ and his post office address was given to me. But all the efforts to reach him still failed. My son is not happy and I have decided to look for help to trace the father. Today, my son has finished secondary school but since I don't have money to send him to a university, I decided to send him to a private computer school. He has done the first phrase but because of lack of money, he has not done the second one. At the moment, he's not working'.
Emeka, who lives with the stepfather, could not be reached.
Wilson's present husband never objected to the boy living with them but as the boy is growing into an adult, he became stubborn. ' He is never at home. So, my present husband doesn't like his attitude. This made the boy unhappy with us. He feels much more at home in my parents' home. I've made effort to talk to him, invited people to talk to him to no avail. All he wants is his father'.
Since 1993 till date, efforts to locate the runaway father had failed. Wilson is not sure whether he's still alive or not. Whatever be the case, she wants Ugochi or his relations to come for Emeka.