OSHIOMHOLE DUMPS OLYMPIC TEAM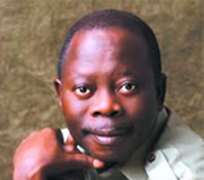 Following what they termed political commitments, Edo State governor, Adams Oshiomhole, has pulled out of the U-23 Olympic team camping sponsorship arrangement with the Nigeria Football Federation (NFF), for the return leg of the All Africa Games qualifier encounter against Liberia.
The head of technical of the federation, Emmanuel Ikpeme, disclosing this to Daily Sunsports in his office at the Glass House in Abuja, noted that the Edo State Government and its Lagos counterpart had cited political commitment as the reason for turning down the request of the federation.
The technical boss of the Nigerian football governing body said the federation was left with no other option than to bankroll the camping with staggering amount despite the federation's teething financial difficulties, after all efforts to persuade the governors for the renewal of the arrangement were rebuffed by their contacts close to them.
He, however, argued that the federation's decision to approve the team's continued camping in the Edo State capital was that the team had fully acclimatised, stressing that it would be counter-productive to take the team back to Abuja.'The arrangement on ground now is that we are taking charge of the camping of the team.
We tried to renew the sponsorship through our contacts close to the governor, but we were told point-blank that the governor was so preoccupied with the electioneering matters.
'Ordinarily, we would have brought the team to Abuja for the game, but the truth is that the players have become so used to Benin. They are used to the facilities and the people. The most important thing is for the team to do well and pick all the tickets. We want the best from the team and if camping in Benin will guarantee that, we won't mind,' Ikpeme added