GHANA'S DEFEAT IS IMPORTANT, SAYS OBUH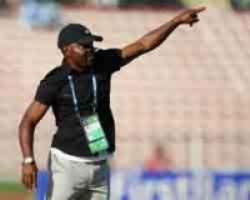 COACH John Obuh said it was important that the Flying Eagles started on a winning note against Ghana in the African Youth Championship (AYC) in South Africa.
Speaking in a post-match press conference, Obuh expressed happiness over the win and noted that the victory has given his team the needed confidence as it looks forward to the game against Cameroun on Thursday.
'I feel so happy that we won against our rivals, Ghana, who are a strong footballing nation. I must admit that it is difficult playing against them in any competition. We have to praise ourselves for this victory. It is important that we got the win and I must also commend my players for this,' he said.
When asked whether the performance of the back four, which was suspect, did not give him source for concern, he replied: 'You know quite well that you cannot be good in a game and that is what football is all about. It was also important that we adjusted in the second half.'
He also said that the pitch did not encourage good football as his players, who are used to passing the ball around on the field resorted to high ball. He said: 'We the African nations really have to improve on our playing pitches.
'We have a lot of talents on this continent but it will be difficult for them to exhibit their talents on pitches like this. CAF are doing a good job to keep football going in Africa but they should always emphasis on good pitches for competitions like this.'
According to Obuh, the playing surface affected Nigerian players and their game plans and they had to change immediately when they saw the damage the pitch was doing to their game. He again commended the players for adapting to the situation and winning the game.