ADEFEMI: EXIT OF ANOTHER SUPER EAGLES' DEFENDER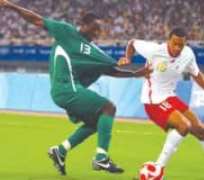 The death of Super Eagles' defender Olubayo Adefemi yesterday in Greece has thrown the football family into deep mourning, writes Gowon Akpodonor with agency reports
JUST when some football loving Nigerians were about to hit the streets in jubilation over Flying Eagles' victory over the Black Starlets of Ghana in the ongoing African Youth Championship (AYC) in Johannesburg, South Africa, the news of Olubayo Adefemi's death filtered in.
The Greece-based Super Eagles defender was involved in a car accident and died when he lost control on the Egnatia motorway while driving from Xanthi to Salonika in the Kavala region of Northern Greece. He was said to be on his way to Thessaloniki to arrange his marriage procedures when the accident occurred. Adefemi was in Abuja few weeks ago for the Super Eagles versus Ethiopia Nations Cup qualifiers, which Nigeria won.
He represented Nigeria at the Beijing 2008 Olympic Games in China, playing all the games and scoring a goal in a semi-final match against Belgium. He was a member of the Nigerian U-20 team, which finished second behind a Lionel Messi-led Argentine team at the 2005 FIFA World Youth Championship in the Netherlands.
A cross section of Nigerians, who spoke on Sports Radio, Brila FM yesterday described the news of Adefemi's death as shocking. The Greece Super League sent condolences to Adefemi's family yesterday, describing him as a 'very easy going and humble character.' The 25-year old joined Skoda Xanthi from Rapid Bucharest FC. He played five of Nigeria's six matches at the 2005 FIFA Youth Championship, scoring one goal during play against Morocco in the semi-final to set up a final clash against Argentina.
On May 29, 2009, Adefemi made his debut for the Super Eagles in an international friendly against Ireland. He played his second senior game against France, which Nigeria won. Adefemi, who signed for Skoda Xanthi last summer and made 24 appearances for the club, scoring twice, might have been planning big for the Super Eagles versus Argentina international friendly match billed for Abuja on June 1.
Some top officials of the Nigeria Football Federation (NFF) wept openly when his manager, Miguel Riera, who spoke with the NFF hierarchy on phone from Xanthi yesterday, broke the news. According NFF Spokesman, Ademola Olajire, the accident occurred at about 7a.m (Nigerian time) as Olubayo attempted to make good use of the one week break granted by his Greek top club, Xanthi Skoda, to travel to Nigeria to finalise his marriage plans.
Olajire quoted his Greece manager as saying: 'This is very sad. I am very sad to confirm to you that Olubayo is dead; there is no doubt about it. I am presently at the hospital and I have identified the body. The autopsy will be out in a few hours, but there is no doubt that he has died.'
Hard tackling, always on alert and fearless, Adefemi made the logical move to the senior team in 2009 and was a member of the squad that qualified Nigeria for the 2010 FIFA World Cup finals in South Africa. But he missed the cut for the 2010 Africa Cup of Nations and was also overlooked for the World Cup finals.
NFF President, Aminu Maigari, in South Africa for the 17th African Youth Championship, in which Nigeria defeated world champion, Ghana, 2-1 yesterday, was weighed down by sorrow. He said: 'This is devastating. I was just leaving the stadium after our U-20 team's victory over Ghana when the Acting General Secretary (Barr. Musa Amadu) called me on phone. Why such a young and dedicated player? Why now? Oh, I can't say more.'
The NFF Secretariat was also thrown into mourning as management and members of staff tried to come to terms with the demise of the promising, effervescent and energetic player. NFF Acting General Secretary, Musa Amadu, said: 'We are in grief, total grief.
'This has come on a day that we should be celebrating the Flying Eagles' defeat of the world champions at the African Youth Championship. But at this stage, we can only pray for the repose of his soul and that God should grant the family he has left behind and Nigeria football family the fortitude to bear the huge loss.'
Amadu added that the NFF would stay in contact with Adefemi's club and family till his body journeys back to Nigeria and that the federation would be involved in the burial. Adefemi was born on August 13, 1985 and was invited by Super Eagles' coach, Samson Siasia, for the last 2012 Cup of Nations qualifier against Ethiopia and the international friendly against Kenya, both at the National Stadium, Abuja.