EMPRESS NJAMA, TIMAYA IN HOT ROMANCE, SMOKE MARIJUANA TOGETHER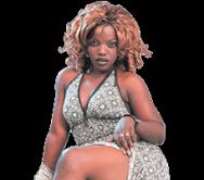 Nollywood star, Empress Njama who was accused of a theft as a result of her kleptomania, a disease of the brain, sometime ago is in the news ago.
We gathered from reliable sources that, Empress and Timaya are now lovers, even if they deny this, the people at the lobby of the hotel they were both camped the other day they were in Abuja would say yes, it's true.
These two newly found lovers, Empress and Timaya, a popular artist in Nigeria music scene are said to be having a sizzling affair together. It happens now abi? No leles.
But the incident that transpired between the two during their trip to Abuja would remain memorable in the mind of other lodgers at the hotel as they turned the place to Fela Shrine and was seriously smoking Indian hemp at the balcony of their hotel room. Passersby who identified the twosome disclosed to this columnist that it was an eyesore as the two were so high on Marijuana while the offensive odour of the 'unholy herbs' rend the whole air of the hotel.