ENE LAWANI, NIKE OSHINOWO'S RIFT DEEPENS-SHUNS EACH OTHER AT FUNCTIONS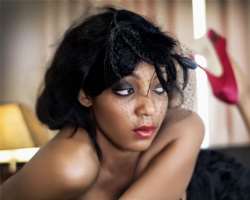 Contrary to speculations that former Miss Nigeria Ene Lawani and style icon, Nike Oshinowo are very close, authoritative sources disclosed that they are so bitter at each other that it would take special prayers to settle the dispute.
Sources disclosed to us that the two former beauty queens see each as sworn enemies. No one could really say why Nike does not like the far younger, Ene Lawani but everything became so obvious when the Miss Nigeria contest took place Last year.
We gathered that, Ene as the reigning Miss Nigeria at that time was supposed to crown the beauty queen but because of the rift between them, Nike chose to use Mrs. Patience Goodluck Jonathan, wife of Nigeria President. Worst still, sources hinted that Nike did not provide air ticket to Ene to come to Abuja or anyone that would have followed her, instead she was asked to buy her ticket. Ene decided not to even attend the event.
The whole situation turned embarrassing at the Miss Nigeria contest in Abuja as the First Lady of Nigeria, who Nike Penciled down to crown the queen didn't show up at the end of the day.
Another source who spoke to us on the phone however disagreed that Nike did not like Ene at all. "Aunty Nike really tried for the girl by taking her out and making sure that she was relevant durning her reign but she was not patient enough" the source said.
The story also took a different turn as someone close to Ene disclosed that Ene is a much younger person to Nike Oshinowo- Soleye, so if she has done anything wrong she should have told her and make her understand but instead, she keep malice with the young girl.
"Take for instance, she was gossiping about Ene with one Jennifer at the after party she organized for Dami the new Miss Nigeria and the news came to her. It is sad" disclosed one of the source.
Now, what we hear is that Nike Oshinowo and her once upon a time younger friend, Ene are no longer on talking terms. At the special reception Ita Giwa organized for wife of the President, Mrs. Patience Goodluck Jonathan, they avoided each other like a plague. They never greeted or even said a word to each other.
The same thing happened last month at a function inside Civic Centre located right in the heart of Ozumba Mbadiwe in Victoria Island.
It would be recalled that shortly after Ene became Miss Nigeria, Nike Oshinowo was employed/appointed by Daily Times Nigeria Plc to be in charge of their lifestyle business especially handling the organization of Miss Nigeria beauty Pageant. She goes out in company of Nike Oshinowo until sometime when they were no longer seen together. Ene also lived with Nike Oshinowo at a time at her Victoria Island home in Lagos. Yet friends claim they were never close, it was only a working relationship. She insisted that Ene should live with her and she agreed.
Nike is married to Dr. Tunde Soleye,a socialite and physician. Recently honoured with the style icon award at Arise Africa Fashion Week 2011, Nike loves Louis Vuitton collections.