…HE IS WASTING TAXPAYERS' MONEY -IKWUNZE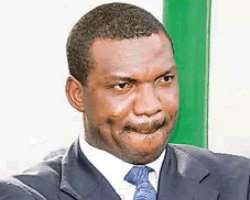 Dream Team V handler, Coach Austin Eguavoen, has come under fire for inviting as many as nine foreign-based players for this weekend's Olympic qualifier against
Equatorial Guinea in Malabo, even when his team is going into the game with a comfortable 5-0 first leg advantage.
Renowned football analyst, Mr Ejikeme Ikwunze and Rangers goalkeepers' trainer, Fancy Ewulu, who spoke on the Malabo outing said the match was one, which Eguavoen should have prosecuted with home lads.
Ikwunze, who is Abia State Director of Sports said it was a waste of taxpayers' money for Eguavoen to have invited nine professionals from different parts of the world for a game against lowly rated Equatorial Guinea, wondering when the home-lads would get a place in the Dream Team. He said the encounter was one which the Edo-born coach should have used to test the home-based players, who have even done well in the Super Eagles under Coach Samson Siasia.
'It is a big surprise to me that Eguavoen called up nine professionals for the Malabo outing. I am further taken aback with the fact that the Nigeria Football Federation (NFF) endorsed the invitation. He should have prosecuted the match with the home lads or are we no longer playing football at home?
Come to look at it, the home boys in Siasia's team have done well. Chibuzor Okonkwo and Ekigo Ehiosun are home boys. So, if Siasia could rely on them at that level, why should Eguavoen go for nine pros to play a qualifier in which he has five goal first leg advantage?' Ikwunze querried.
Rangers' goalkeepers' trainer, Fancy Ewulu on his part said Eguavoen should have used the encounter to test out the homeboys.
'I think the focus should have been on the home-based players in the team. He should have tried them out in the Malabo return leg. The home-based players are not in any way bad and we shouldn't create the impression that we can't do without the foreign legion,' Ewulu said. Ewulu, who was a member of the Chile 87 Flying Eagles said he was confident the home-lads would not fumble if given the opportunity to prove their mettle.