Postponement of Nigerian Election: T.B. Joshua's Prophecy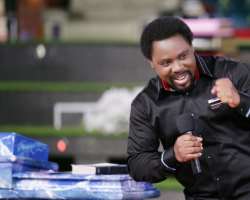 A quick break from the usual individual testimonies!rophecy
I have seen a lot of online discussion about the prophecy of T.B. Joshua about the postponement of the Nigerian elections, which are now scheduled to start this Saturday 9th April 2011. There was an even a leading article about it on Nigeria's evening tabloid, '
However, in all the debate and discussion, I have not actually seen anyone quote T.B. Joshua's exact words on the issue. So, since the video of the prophecy is on YouTube, I decided to highlight the prophet's exact words, and the dates where he said them.
On August 1st 2010, T.B. Joshua said, "I'm hearing the word 'extension' What is the extension? Extension of what? What are we extending? It has to do with this country. What are you extending again? I'm hearing extension for accountability."
On October 10th 2010, he explained more, "The election you are talking about, I am seeing it being pushed forward. That pushing forward will not be alone – there will be another re-pushing and pushing. When a man of God is talking, it is because he has seen what is going to happen. What is going to happen – it's what I have seen that made me to say 'pushing, pushing'. That is why they said the constitution does not permit it. When they see what is going to happen, they would know the constitution will permit it!
"What I am seeing now – it is only the grace of God that would see us through. With the grace of God, nothing is impossible. The word 'extension' is pregnant. It has triplets, three babies inside the womb. And each baby has different messages. Ordinarily, extension is unnecessary, but circumstances will arise…"
For the records, every prophecy T.B. Joshua gives is during his weekly live services on Emmanuel TV. So, he says it LIVE and direct to millions of viewers worldwide. Although the prophecies are often parabolic and not always specific, their consistency in accuracy is the most authenticating factor I consider.
And the fact they are given during a live service is also remarkable. It takes absolute confidence in God's revelation to declare what is going to happen in the future in front of a live television audience because if the events turn out otherwise, it is too late to withdraw your words. That is why it is very rare to see ministers of God dabble into the area of prophecy today. I remember T.B. Joshua referring to it as a 'screening machine' in relation to Deuteronomy 18:22, simply because if you say, 'God says' and it doesn't come to pass, you will almost immediately be described as a 'false prophet'.