P-Square loses millions as Busta Rhymes faills to show up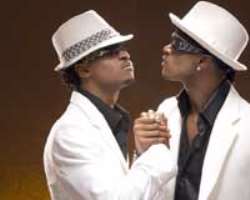 The hype had been huge and Nigerians had awaited with great expectations as the story spread. One of America's most celebrated rap artiste Busta Rhymes was coming to Nigeria to headline the peace concert put together by Northside Entertainment (an outfit owned by the twin brothers and their manager brother, Jude) and Howie T's Kiss Entertainment.
The concert which was to feature also P-Square and a couple of other top Nigerian artistes had been scheduled to hold in Asaba the capital city of Delta State.
P-SquareAt a press conference organised by the musicians to herald the event, the duo (Peter and Paul Okoye) told newsmen the purpose of the concert is to 'promote peace in the Niger Delta part of Nigeria'.
'We know there has been a lot of a similar concert trying to promote peace in the Niger Delta over the years, and since anything P- Square does is usually unique, we have decided to join forces with Busta Rhymes to make this a reality' Peter Okoye one of the twin commented.
The show which is put together by North Side entertainment; an outfit owned by Jude, Peter and Paul Okoye had been tagged 'Da independence blast' because the show was scheduled to hold on the 30th of September , 2008 in commemoration with Nigeria's independence day' Paul Okoye commented.
Alas on the D-Day the America rap artiste was nowhere near the concert venue. He was in far away America unmindful of the pains he'd inflicted on his followers.
Traumatised by the development, the organisers rallied quickly and a decision to refund money to the fee paying guests was taken.
And by the last count, the organisers had refunded in excess of N15million to the over 3,000 persons who'd thronged the Grand hotel venue and had bought tickets for N5000.
In a telephone chat with Showtime, Jude Okoye, the P-Square manager while confirming our story stated that, "what ever may have gone wrong with Busta Rhymes should be blamed on, the agent who packed the deal between Northside Entertainment and the rap artiste. We fulfilled our part of the deal.
For now we are working details on a new date for the concert", he told Showtime.