OGBORU MAGINALISES OKPE PEOPLE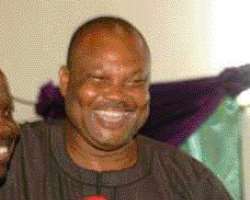 •Ogboru
The absence of the Okpe Political Leaders in the Great Ogboru Campaign Committee of the Democratic People Party DPP for up coming gubernatorial elections is completely unacceptable.
Okpe kingdom is one of the largest ethnic blocks in Delta State with two local government councils Sapele and Okpe.
The kingdom proved its unalloyed support for Chief Great Ogboru by massively voting for him in the recent rerun election in Delta State.
Taking a cursory perusal of the Ogboru campagn team, there is nothing to suggest that Okpe people will be represented in Ogboru's government if he comes to power in Delta state.
A proverbial saying goes thus:'food that will satisfy you can easily be confirmed with your eyes.', Okpe should ask the question, are there no Okpe leaders in DPP? Suffice it to say that a situation where a campaign team of twenty five (25) members committeehas no Okpe man and a fifteen(15) member advisory committee has only one okpe man shows how Chief Ogboru will treat Okpe people. Chief Ede Omueya Dafinone is the reason the ever courageous Okpe people massively voted for Chief Great Ogboru and made him win the two local government council for the first time in the history of Delta state politics.
However, Premised on the arbitrary absence of the Okpe people it is clear that all is not well and will not be well with the representation of the Okpe in the Ogboru administration if this affront is not corrected. Finally I want to ask chief Ogboru whether Okpe people are not important to him in the up coming election
•Patrick Akamovia
08120724360, 07038707529