SHAREHOLDERS DIFFER ON INTERCONTINENTAL BANK, ACCESS BANK'S 'BUSINESS COMBINATION' PACT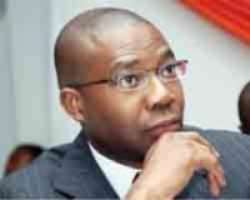 MIXED reactions, yesterday, trailed the recent signing of Memorandum of Understanding (MoU) on business combination between Intercontinental Bank Plc and Access Bank Plc.
While some shareholders expressed shock at the turn of event, others described the development as   'the surest safety net for their investments'.
Representative of both financial institutions had on Monday, signed MoU on 'business combination', which according to them, could give rise to the third biggest bank in the country.
National Chairman, Progressive Shareholders Association of Nigeria, Mr  Bonifa Okezie, said the two financial institutions have succeeded in keeping shareholders in the dark concerning their operations.
He also advised the management of both institutions not to take any step that may run foul of the law, adding that any concrete step must involve the shareholders 'not the other way round.'
On his part, the National Coordinator, Independent Shareholders of Nigeria, Sir Sunny Nwosu, likened the MoU to courtship between intending couple, adding that he would not comment for now since the case is in court.
Okezie also used the opportunity to advise the Securities and Exchange Commission (SEC) to intervene in the controversy surrounding the reported MOU.
Meanwhile, President, Association for the Advancement of the Rights of Nigerian Shareholders (AARN), Dr. Faruk Umar gave full support for the MoU, saying, 'we want to assure you of our unflinching support.'
A press statement issued by Intercontinental Bank's Group Head of Corporate Communications, Mr Edddy Ademosu, quoted the Chairman, Onitsha Zone of Shareholder Association of Nigeria, Bishop Goodluck Akpore, as saying 'shareholders have enough information to take informed decision on the MoU and therefore the management should move quickly to consolidate on the gains of the signing.'
Ademosu said the endorsement was given at an interactive parley between the management of Intercontinental Bank and representatives of the bank's shareholders, on Monday.
He said: 'The Group Managing Director/ Chief Executive, Mahmoud Lai Alabi, seized the opportunity to reiterate the essence and benefits of the proposed combination to the shareholders, saying, 'the combination of the two banks will create a formidable Nigerian bank.'
He noted that 'the new entity, as a significant player in the wider African market, will be well positioned to capture future growth opportunities, capitalising on proven track records, management team and best practice culture applied to extensive and complementary branch network.'
Alabi revealed that the complementary business models of both banks would provide strong strategic rationale for the partnership.
On his part, the Executive President, Nigeria Shareholders Solidarity Association (NSSA), Chief Timothy Adesiyan, noted that the shareholders were more interested in the recapitalisation of the bank via the business combination than to engage in frivolous litigations, which will further erode their investment.
In his views, the representative of Shareholders Trustees Association of Nigeria, Alhaji Muktar Muktar, said the bank was positioned to regain its rightful place with the expected value proposition the combination will generate in view of the synergies of both banks.