Campaign: Ogun Residents Boo Iyabo Obasanjo-Bello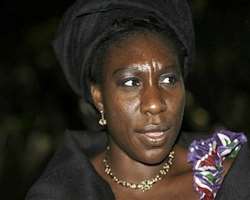 SENATOR IYABO OBASANJO-BELLO.
LAGOS, March 26, (THEWILL) - The Peoples Democratic Party (PDP) senatorial candidate for Ogun Central, Senator Iyabo Obasanjo-Bello was booed at Magboro, a community in Obafemi Owode Local Government Area of the state.
Obasanjo-Bello, who was booed due to what residents in the community ascribed to her poor performance, arrived the community alongside her aides on Wednesday afternoon but got a cold reception from the residents who accused her political party of neglect and ineptitude.
Most of the residents went about performing their daily routines, boycotting the campaign venue, the only community primary school in the area, as they rained abuses on PDP for not attending to their plight.
An automobile mechanic who identified himself as Baba Dada told THEWILL that Magboro indigenes would not vote for any PDP candidate anymore because the party has failed to bring development to the area.
THEWILL further gathered that the last time a major development came to Magboro was during the administration of Governor Olusegun Osoba who installed four transformers in the area.
He said that the transformers had since become ordinary monuments because the successive PDP government has failed to connect the community to the national grid, saying Magboro "has been wired with cables and transformers but there is no light. We are suffering for lack of electricity."
Another resident in the community, Mrs. Deborah Adesola said that the speech and response of Obasanjo-Bello suggested that PDP had nothing to offer Magboro people.
According to her, Obasanjo-Bello could not tell us what she will do for our jobless youths if she is voted as our Senator.
Adesola explained that when asked what she would do for the youths by our Baale, she told us that she would reveal it later. We are not pleased with her words.
However, a PDP member in the community, Mr. Aruna Mukaila described the agitation of the people as a welcome development but added that it would not affect the party's performance in the area at the April poll.
He said nobody "can stop PDP in Magboro. It belongs to us. Come April, we are going to record a landslide victory."
Mukaila told THEWILL that if the party is voted in, it would address the problems of the area, which included bad roads, lack of potable water, lack of electricity, poor school infrastructure and health facility.