I don't have any sickness – Ngozi Nwosu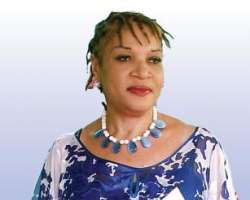 Ngozi Nwosu Ngozi Nwosu has been in the Nollywood industry for quite a long time. But her sudden loss of weight has caused tongues to wag that the former robust actress is suffering from leukemia (cancer of the blood). In this interview with Angela Davies, she debunked the rumour and advised that journalists should check their facts
Popularly called Peace due to her role in 'Fuji House of Commotion', this versatile actress started her acting career professionally in 1985 and since then she has not looked back. No doubt she has lost a lot of weight but how true is the rumour? Speaking on how the news that she had cancer of the blood started spreading and who started the rumour, the actress with anger in her voice revealed that, "It was Samuel Olatunji. I don't know where Samuel got that trash from. All I know is that I started having calls from all over the world. I got the newspaper and got on the internet and saw all the things written about me. To me, I don't know how some journalists behave really. Even if you heard and it's a rumour, you have every right to call me and confirm. He even went ahead as far as quoting that they got in touch with me. When in actual fact he did not.
Wherever he got that from I don't know. Probably he was drunk or something. Sometimes journalists need to be checked. With what he wrote, he wrote like someone who was under the influence of drug or something. He did not even call me but when the trouble started, he was able to look for my number and call me to beg. This is so bad. My life that I have put together for so long, I don't know why Samuel decided to crash it overnight. It is not fair. It is not fair; journalists should really watch what they write about people. Yes I am a celebrity that is why the rumour spread so fast. Even up till yesterday I was still receiving calls. I still have to explain myself because each person that sees it would want to call especially if that person is a lover of you or have your interest at heart. I have to answer questions upon questions.
It is not fair, if they want to write something about us or want to sell their paper I am not saying they should not gossip but there are some gossips that are unhealthy and character assassinating. It is not nice because at a point I myself I even said "Ngozi is there any sickness you have that you don't know about?" No, it is true because there is a way they will talk about you that even you that owns yourself, you will begin to doubt yourself. I was like maybe I have a sickness that I don't know about? And I don't."
She revealed that she lost weight drastically because she slugs it out with exercise. "I slug it out with exercise, that is why I am able to drop from a size 18 to a size 14. I work out from Mondays to Saturdays. It is only Sundays that I don't walk out. That is how I got my shape." The actress who was stylishly dressed also took time to talk about her style in a lighter mood. She emphasised that style is something that you are comfortable in. "Style is being modest; it is being a little bit fashion conscious. Knowing what to wear at the right place and at the right time and wearing what actually suits you.
Revealing her own kind of style, she said "My style, I will say, sometimes have to do with moods. It depends on where I am going to but on a good day, my day to day activities as Ngozi Nwosu, I love being simple. Except when it is a special occasion, that is when I try to go extra mile to really dress up. If it is not an occasion, you won't see me in make up. How does Ngozi Nwosu relax? "I relax doing so many things. Sometimes I dance, I read, sometimes I make fun with people, we gist and laugh. Some times I take a bottle of fanta. If it is when I used to drink, I take ginger and lime, campari soda. I relax with it but now that I am not into alcohol anymore, I take all the minerals."
Speaking on her best colour, she said "My best colour is black. I just love black maybe because I am fair. As a fair person, you look so good in black. You look excellently good in black. Another colour I love is royal blue. I love colours that bring me out. I love black,blue, fuschia pink and yellow. My hairstyle has being dreads and it is going to two years now. I started it with puff puff and it has grown. I can pack it now. She appealed to her fans to keep encouraging her because she will always be there to serve them. And that they should pray for her that whatever her enemies have thought over her head will not come to reality. "To my fans I just want to tell them God bless them and I love them"