OGD IS A TENANT IN PDP - OKUPE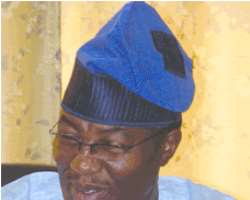 OGD
Former President Olusegun Obasanjo's Special Adviser on Media and Publicity, Dr. Doyin Okupe, has described the presidential candidate of Congress for Progressive Change (CPC), Gen. Muhammed Buhari, as a national security risk.
In an interview with Sunday Sun, the medical doctor and politician also criticised Ogun State Governor, Gbenga Daniel, for fraternizing with the Peoples Party of Nigeria (PPN), describing him as a tenant and sojourner in the Peoples Democratic Party (PDP).
He said Buhari's rallies were more like a religious movement rather than a conventional political campaign forum, expressing fear that his supporters may not accept defeat if they lose in the forthcoming election.
Okupe argued that the CPC presidential candidate's rallies, particularly in the North, was not a measure of his popularity as there was nothing unique Buhari is selling except that he had been made to represent the symbol of Islamic fundamentalism.
'This is purely a religious thing. If you look at the crowd that attend Buhari's rallies, you will not find very eminent people, you will not find people of the middle class, but what you find is a lot of young people, most of who are not gainfully employed.
'What you see in the North is that of a personality like Pastor Adeboye going on a revival. What you are seeing in Buhari's campaigns is not a political movement, but a religious revival and that is unfortunate, really. 'That worries me because when people turn out like that and they are not political, when their passion is not political but religious, it is difficult for them to accept defeat.
'When they lose, they cannot understand it, you cannot explain it to them. That is why I said sometime ago that Buhari is a cause for national security concern especially post-election,' Okupe said.
He noted that when Buhari campaigns in the whole of the North, he does not speak English but Hausa language to his supporters, arguing that other candidates who are also northerners speak English, the lingua franca, and Hausa interchangeably.
'Buhari never speaks English. The whole idea is to present himself as a symbol of the northern and religious struggle. And that is what is dangerous about it,' he said.
Okupe also berated Governor Gbenga Daniel for fraternizing with the PPN, describing him literally as a tenant, sojourner and water hyacinth without any roots in the Ogun chapter of PDP.
His words: 'In Ogun State PDP, there are those who are tenants and there are those who are landlords. We own the party. The tenants are those who have moved. If you are in your father's house and the house belongs to you, you do not leave. It is only vagabonds and tenants that leave. People who do not have very serious attachments leave.
'As I had said many times before, I ran against Gbenga Daniel in 2003 and I lost. Then, Gbenga Daniel was not a member of the PDP but Alliance for Democracy (AD). He was brought by those who did not want me to be governor and it was a major conspiracy and I lost. But because of my roots in PDP, it was inconceivable for me to go to another party. It was unthinkable and ditto for other people who ran with me. Where do we go? We cannot go, but those who find it easy to go show they are wayfarers.'