I work with artistes, not stars –Amaka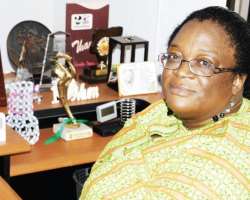 Amaka Igwe at work Top FM CEO, Amaka Igwe's brilliant work as a filmmaker has earned her respect and encomiums around the world. In this Interview with ADENRELE NIYI, the passionate Nollywood practitioner talks about innovations her BOBTV is spearheading in the New Media clime. She also shows Friday Flavour around her Lagos office. Excerpts:
In the past two years, you have been out of media coverage, was this deliberate?
I don't know about media coverage, but there are things I said I wanted to do and I was busy doing them. I don't like talking for talking sake; I prefer to demonstrate certain things. As per television, I am also working on two projects. Of course, you are aware I was given the license for television and we were busy stock-piling programmes, doing certain projects, getting ourselves ready for the frequency which we hope the Nigerian Broadcasting Commission will give us soon so that we can start broadcasting. So, I was busy doing those things. And then on the film side, we are setting up distribution through a project which we've been doing for a while. Hopefully by June, it will be ready. I guess that is why we have been silent because I was busy doing other things.
In 2005, you granted an interview where you spoke about the distribution framework on ground right now is not adequate enough to provide the massive revenue for producers of film makers. In 2011, what is your opinion?
It is still the same, inadequate. In fact, it is worse now because with new media -people being able to download films from the Internet, watch films from their cellphones and films being pirated even more- people are making money off Nigerian films which are not coming to the owner. So, to fight piracy a need for structured distribution is still necessary as it was then. The inadequacy of distribution is a thing that has created high level of piracy in Nigeria. We have a demand and supply problem in Nigeria; people are not able to supply up to the demand. First of all, they can't put down like a million copies of CDs which is what is required to fill up everywhere in Nigeria with movies. People are doing 5,000 copies because that is what they can afford. But even when you do it, you put it in three locations. Either you put it in Idumota, Iweka Road or Pound Road, Aba and you are trying to sell to 150 million people plus 200 million down the West Coast. There are over four million Nigerians in the UK who will want to buy. We are not talking about the Africans in the Diaspora and the West Indies. So basically, distribution is not structured and is not just about movies. It is about music, books and AV materials. It is about retail sales. Before, the marketers who have been funding films were managing to distribute, but right now, piracy has overwhelmed everybody and it is crazy.
And of course part of the project you are working on is towards solving these problems?
Yes, we are close to the end because we've done the pilot programme. We did that with UBA and it worked. Part of our discoveries during the pilot is that we needed to have materials ready. When you create that highway, you need to have what will go through it. We are working on that simultaneously with creating the structure distribution. Hopefully, some other people are working on other things, so that it will not be a monopoly. Everybody can use the platform and get their product distributed and make adequate money. None of these solutions is to replace the traditional way of buying and selling CDs.
BOBTv has achieved great mileage, what are your expectations for achievement that came out of 2011 expo recently?
It is definitely going to be on New Media. Our theme is New Media, New Ideas, New Possibilities. I knew how imperative it was when we got calls from Israel and America. People, independent of those we normally invite, are booking and wanting to come. It's time because Nigeria has invested a lot in the backbone with the Main One which the Nigerian government has done. Then Glo has also invested a lot. So, in a short while, we will have Broadband capabilities that will shock the world. What is remaining is how to join content with the New Media which is what BOBTv is going to do. There's a major conference on it which is being put together by Infosoft, an independent company. In America now, people broadcast off the Internet. What is the implication for the Nigeria Broadcasting Commission whose responsibility it is to authorise, license and monitor? What it means is that I can set up a TV station and put it anywhere in the world and anybody can download and watch me especially in Nigeria. By June, that capability will be in Nigeria. When that time comes, what will be the media implications? How do you finance it, how do you make money off it? Our people are still struggling with distributing one by one. How are they going to catch up with that technology? Who are those involved right now, what are they doing and what can they do? Those are the things we want to look at. We are going to have what we call the New Media School where the people who understand it will explain it line by line; piece by piece. There will be a lot of demonstration of new media by so many companies. These are the main highlights. We feel that this particular year's BOBTv is groundbreaking and it's going to turn how people view things. That is what we hope to achieve at this year's BOBTv Expo.
You mentioned films and documentary production, but we have an archival problem in Nigeria. How do we keep record of these important productions?
It is part of what we are saying, we are so far behind. I think it has to do with lack of ideas and laziness. First of all, let us start from the amount of graduates who come out from the departments of Archival Sciences, Library Sciences and Information Technology. If we give these productions to them as their projects, we will have a lot of our things archived. At the University of Ibadan, which is a Nigeria's repository where we are supposed to keep our national information, I remember when I was doing my Masters, the place was flooded. You lose works. Right now, all these things need is to scan them and you transfer them into the computer. Create even Microfish or photograph them and keep. It is annoying when you watch a foreign film for instance and somebody is looking for information. All he needs to do is to go to a library and he collects a box of Microfish on that particular thing and he goes there and he puts it in and is reading old newspapers. Let me tell a little story. Some people spent 10 years at Cocoa Research Institute, Ibadan studying something on cocoa. After 10 years, they sent the result to the international journal and the people wrote back to them saying, this same research was done in the same cocoa institute 20 years ago. The point is there are numerous researches going on in Nigerian institutes, but the problem is archiving the results and putting them in the market place so people can use them. It is this same Nigeria that developed the best palm seedlings in the world. Malaysia bought it and is now exporting palm oil to Nigeria because we don't document or archive our own research results. We have brilliant researchers, but our archives are empty. Except we digitalise these information and put them out there, it is lost to Nigeria because paper doesn't last. For me, modern issues should be documented. I watched the building of the Panama Canal and someone did that documentary to preserve the historic moment of a nation. Imagine that we have put up monumental structures like the Third Mainland Bridge and there is no documentary to follow the step by step construction of the bridge. Yet, that is part of the history of this country. Besides, if this is a culture, then the Mass Communication graduates or people in my industry would not be looking for work because there is so much to be done. Even modern history, who is documenting it now? Soon people would stop reading newspapers; hard or soft copy. They would rather watch it, see it rolling as they are listening to news, they can do other things. That's why I'm very happy with our topic for this year's Expo; Nigeria in a fast changing world: New Media, New Possibilities. If we properly adhere to it, we're going to open up our own economy.
How would you rate foreign participation and grants in growing the film industry? Do you think we are utilising our opportunities well?
With regards to foreign grants, I hold a slightly contrary opinion. The Nigerian film industry, as presently constituted, is a purely commercial one; it is not grantbased. It is like the American version which is entrepreneurial. You make the films to make money; you are not waiting for a grant. The French deal with Francophone countries which, as far as I am concerned, is detrimental to their film growth. They may say they make celluloid films, but I've watched their films and honestly there are very few that can compare with some films we do. They call us Mickey Mouse industry, popcorn industry and that is the same name they called Hollywood. But Hollywood makes much more money. We are different; we are not in the film business to do Picasso –some avant garde art that only you can watch. I have seen films done by Gaston Kabore when he got a grant to talk about conservation; it was boring and silly. As far as I am concerned, it is for children. I could do better without a grant talking about that same conservation. For me, grants should go to the students in Nigeria to use to learn. It's not our problem; the problem for me is distribution. Many people say we don't know how to make films, it is not true. We were making good films when the distribution was adequate for what we were doing. What has happened is that because the distribution is not adequate and then this is a means of livelihood of people, they are not doing it to please anybody; they are doing it to make a living, so they cut corners in order to make some profits before the pirates set in. They are not making it to standard, they are cutting corners. Do I agree with what they are doing? No, but I am appreciating the stress they are going through. Nobody sets out to make a bad film, but people are making films within very tight budget and difficult terrain. Even if you give somebody so much money and he makes a 'big film', how is he going to going to get back the money? It's a major issue. People tell me we go to the cinema. There are 40 films released in a week at least. How many cinemas do we have that can take the 40 films and make all of them? Can they take 10% of the films made? No. We have about 45,000 video clubs in Nigeria registered by government, all pirating Nigerian films. All that is remaining is for somebody to articulate how these 45,000 people can take work from the owners of the work, rent it out and give them a part of the money, that's all it takes. Give us 60% of the money or give us 40% depending on negotiation. Films are made in America, they don't live with grants. Grants go to students, to women, to minority. You don't come to major filmmakers and give them a grant. Things are not done like that.
Is it likely we see film production from Amaka Igwe studios soon?
I have about six films in the can. I'm waiting for distribution and we are making more. We have films that we shot since, but I am not going to dash the pirates the films. Everything is getting into position for us to distribute it. Amaka Igwe Studios will be commissioning and at least making four films a month at minimum. I will shoot two out of the whole, in one year. We have been training people, quite a lot of young people. Directors, producers, writers, actors, but we are concentrating on writers and directors. When the time comes, we would get people to do the work. At least, I've tried to multiply myself according to the principles of the Bible. We have people who we have taught, who are better off than me. We have the training camp which is called the Center of Excellence and we have international relations. We have partnerships abroad; we've trained for the British council and we have also trained for some other organisations too.
I want to speak for a lot of keen followers of your productions and ask what happened to
Tempest?
We have 39 episodes of Tempest. It was discontinued because we didn't agree with the person who was releasing it; a long story. Suffice to say we were not paid for the work we did. When you work, you deserve to be paid and we decided that we will do it for our own TV; we will not release it anymore. We have seven scripts and each, one hour. Tempest is now one hour, we have 39 hours of Tempest and some six other soaps never before seen. We are working and hopefully we are just hoping that they will release it if they don't after a while, maybe by September or October, we will release all seven of them.
Do you still write scripts?
I do all the time. That's my love, I love writing.
What informs your cast selection, I personally think you have favorites.
No, I don't
There are people you are comfortable working with?
Yes. First of all, if you want to act, you have to come to me, I'm not going to come looking for you because that shows that you have the humility to listen to a director. From my own training, which is the proper training of a director, you can only work with people who are comfortable with you and people who you are comfortable with; it's the secret. Number two, I cast very well. You must fit the role; not fit it in the sense that you must look like. But you must be able to interpret and carry the role. I've almost used people and dropped them, there are many like that. I don't work with stars, I work with artistes. People who understand the profession and the trade. Not being able to differentiate between one nuance and the other is a problem, I won't use you. If it is an English film, you must be able to speak English properly except you are supposed to have some defects. A colleague of mine shot a film and took it abroad, they said he should go and subtitle it in English. But the actors were speaking English, that's the funny thing. I will never do that, viewers must hear my people. So, there are so many things I look out for as a director apart from the professional ones. People who think in English work with me better than people who will think in vernacular and translate. From reading, I know whether you understand your role or not. A lot of people have natural abilities definitely, but I keep saying that between your natural ability and the fame, there is a lot of hard work and training if you are willing. I don't have favourites in the industry.