SHARKS MATCH, A MUST-WIN FOR HEARTLAND - CHUKWU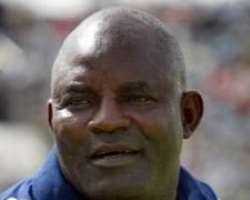 Coach Christian Chukwu has told players of Heartland FC that tomorrow's game against Sharks of Port Harcourt at the Dan Anyiam Stadium in Owerri is a must-win if the team hopes to finish the season on an impressive note.
The Heartland's gaffer, who spoke moments after Wednesday's Oriental derby against Enugu Rangers International at the Nnamdi Azikiwe Stadium in Enugu, blamed his strikers for the team's 1-0 loss.
'I put the blame on my attackers because they failed to convert the numerous scoring chances we created. We did not just create chances, but very glaring ones that could have given us victory in the match. In fact, the attackers did not live up to my expectations,' Chukwu regretted.
'Obviously, we have to win the next match against Sharks of Port Harcourt. At this stage of the league season, we cannot afford to drop points in our home matches. Besides, if we really want to go far in the league this season, we have to win our away matches. That is the most important thing for us now.
'After the match against Sharks, we shall sit down and review our performance in the first stanza of the season. We need to look at the team generally and overhaul it properly before the second stanza begins,' he said.
Meanwhile, arrangements have almost been concluded for the official unveiling of the team's new technical adviser, Lodewijk de Kruif. The Dutch tactician, who arrived in Nigeria on Wednesday last week, has since resumed training with the team.
Although Kruif did not sit on the bench in the game against Rangers, he was with the team in Enugu and was in the dressing room with the team before the match and during the half time for some pep talks with the players.
League Unlimited, however, gathered that the new man on the bloc would be officially unveiled to the public by Governor Ikedi Ohakim before he officially begins work as the technical adviser of Heartland.
No date has, however, been fixed for the unveiling ceremony.