I'M BACK FOR GOOD -MULTI-TALENTED SINGER, SEYI SOLAGBADE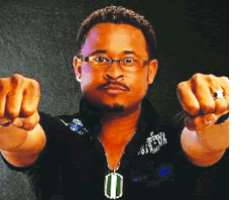 •Seyi Solagbade
Oluseyi Solagbade is one Nigerian artiste that is uniquely gifted. He is a musician whose experience in the originality of different genre of music in West Africa gave birth to authentic futuristic music. His music has been making waves both at home and abroad. He started the career from the church as a soloist in the early 80's. He is an icon of repute.
Solagbade is a person, who believes in originality and creativity. He has also acquired many skills from different institutions internationally.
When asked why he had been away from his Nigerian fans, Solagbade said I can never abandon my fans. Although, I have not been in touch with them musically for sometime, but we do chat on my website as well as on Facebook.
They have used the medium to speak their minds and demands. The truth is for some time, I have been working with different producers and music instructors in different Institutions (home and abroad). I have been working as music agent for many states during their annual functions- Ogun among many other states. But most importantly, I am busy working on an album.
Excerpts:
Are you saying you are now back?
Yes! Infact, I am fully back. With the support of God and all my fans, I'll be releasing three singles this month Insha Allah.
Are we expecting the same Afro Palongo?
Well, I am coming out with another brand of music, so it has to get across to everyone particularly for the youths. It's an inspirational groove that would serve as 'hypnotherapy' to everyone across the globe.
Are you now an Evangelist with this kind of spiritual, gospel stuff?
Not at all, what do you mean by gospel music? Is it by mentioning Christ, Jehovah, Mohammed and Allah with deceit? Or by giving succour, happiness, joy, peace and solution to problems without deceit? I am not a gospel singer, neither am I an evangelist as it's been defined by many people.
The singles
The new singles would just be a tip of ice-berg of what the entire album would look like. The first one is Ire followed by Orin & Olusegun. Ire and Orin will be out this month and May respectively. Gbenga Salu is the producer of the two videos.
How have you been moving on?
I thank God for my life and people whom the Lord has been using for me; my great friends, the entire crew and members of Oju Dudu Koncept.
What kind of project are you working on?
We are working on lots of project. I'm not just a musician, but I'm trying to build an empire which is beyond people's imagination. Oju Dudu is the mysterious name given to the empire. We shall soon return the monthly live shows. The mega show will be coming up later this year.
When and where is the monthly show?
The show comes up every last weekend of the month starting from April at Sparkles, GRA, Ikeja, while the mega show will be on December 24.