Akpabio Behind Murders, Kidnappings In Akwa Ibom - Newswatch Chairman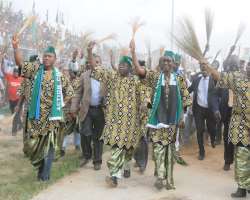 L-R: UME UMANA, BOLA TINUBU, NUHU RIBADU AND JOHN JAMES AKPANUDOEDEHE DURING THE ACTION CONGRESS OF NIGERIA (ACN) PRESIDENTIAL PRIMARY HELD AT THE UYO TOWNSHIP STADIUM ON MARCH 09, 2011.
UYO, March 10, (THEWILL) – The Chairman of Newswatch Magazine and frontline politician in Akwa Ibom State, Mr. Ime Sampson Umana, has disclosed that the Akwa Ibom State Governor, Mr. Godswill Akpabio has direct involvement in the multiple politically charged murders and assassinations in the state since 2007, when he assumed office as governor
Umana made the allegation on Wednesday at the Action Congress of Nigeria (ACN) Presidential campaign rally inside the Uyo Township Stadium.
The politician, who is running mate to the Action Congress of Nigeria Governorship candidate in the state, Senator John James Akpanudoedehe had been detained and released a few months back by the state command of the secret police for allegedly sponsoring threat text messages to the governor's mobile phone number.
However, throwing more light on his allegation against Akpabio, Umana who referred to the governor as a younger brother, said, a former state director of the State Security Service (SSS) in the state, Mr. Mike Ejiofor, had confronted the governor in 2008 with strong evidence that he (Akpabio) was responsible for the series of murders and kidnappings in the state.
Hear Umana: "Mike Ejiofor, then SSS Director in the state openly told Akpabio that he was behind killings and assassinations in the state. Ejiofor was investigated and it was realized that what he said was the truth. The authorities had to post that man to Abak command to stop further revelations."
Continuing, he said he would have been murdered last year but for the intervention of a young man who told him that he should avoid calls from Akpabio while at home, as there was a plot to assassinate him once it was established that he was at home.
"The governor actually called me that day because I told him the truth that he has been accused of killing and assassinating people in the state, that he should clear his name and he asked me; can we talk? I said yes, but that I cannot come to Akwa Ibom.
"Then he came to my house in Lagos in company of the former deputy governor, Dr. Chris Ekpanyong and his brother, Nsentip Akpabio and knelt down to beg me not to disclose the information to the public. I promised him I was not going to disclose it but today, I am saying it.
"No other person can say this apart from me. Chris Ekpenyong is a witness to that meeting," Umana emphasized.
Akwa Ibom State, one of the oil-rich states embedded in the volatile Niger Delta region has recorded an unprecedented number of murders and abductions in the last four years than any other period since the creation of the state more than 20 years ago.
About 100 cases have abductions and 20 cases of politically charged murders were have been recorded in the state according to a petition by a political group in the state.
The governor has however repeatedly accused his opponents of complicity in the crimes, which he said were orchestrated to discredit his administration.
The ACN rally was led by the party's National Chairman, Chief Bisi Akande with Presidential candidate Nuhu Ribadu, the Lagos State governor, Mr. Babatunde Fashola, SAN, former governor and party financier, Asiwaju Bola Tinubu, Edo State Governor, Comrade Adams Oshiomhole, and Ekiti State Governor Dr Kayode Fayemi amongst many other top ACN party men and women.