ADIYIAH, A WORLD CUP HERO SEEKING REVIVAL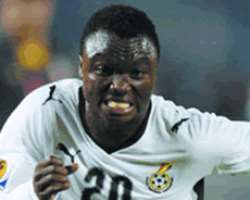 Former world youth best player, Dominic Adiyiah is attempting to revive his career after securing a loan deal with Serbian giants, Partizan Belgrade. The striker was hailed as the next big thing to hit African football after helping Ghana to win the Under-20 World Cup in 2009.
He finished as the top scorer of the tournament held in Egypt and his performance earned him the world best youth player award. His sterling showing that helped to give Africa its first Under-20 World Cup title attracted the star-studded AC Milan to sign him.
Adiyiah arrived at the Italian Serie A giants where his career was expected to truly take off, but a combinations of factors hindered his progress. His quest for regular playing time took him to Serie B side, Reggina on loan but there too opportunities were few and far between.
He recently opted to join Partizan on loan to gain playing time and the initial signs are promising for a youngster whose career showed true promise. Adiyiah has scored four goals in six friendly appearances for the Belgrade side and with the league set to resume this week, expectations are high.
When asked how he is settling down at his new club, Partizan Belgrade, Adiyiah said: 'Everything is going on well and smooth. Since I came here when the winter transfer window shut, things have been going on smoothly for me.
The club's management, coaches, team officials, team-mates and fans have been very welcoming to me. Crucially, I have my senior brother here, Prince Tagoe with who I play with in the Ghana national team to share ideas and take advice when I need it both on the pitch and off the pitch.
'So, this has made me settle down well, and I am enjoying my training sessions at this great club with a great tradition and I hope I can achieve things here.
'Some people have said that taking a move from a top league like the Serie A and Serie B to play in Serbia is a backward move, but I think they are utterly wrong. The Italian Serie A is a bigger league in profile than the Serbian league, but the quality of the Serbian league is also huge.
Some of the great players in the world today have played in this very competitive league before going on to play for great clubs. A perfect example is Vidic of Manchester United. If he used to play here with many other players with good quality like him, it must tell you that there is something special happening in the Serbian League.
The Serbian league has provided some of the hottest challenges in the UEFA Champions League so to berate the league like that is unfair. Apart from this, I came here to play for Partizan for regular football so that I can keep and nurture the talent that God has given me rather than sitting on the bench in a big Serie A club like AC Milan with no regular action.
In doing that, my talent and potential will never be fulfilled that's why I decided to come. The more I play matches, the more I continue to develop to realize my potential and main my match fitness.
'It is also insinuated that my joining AC Milan in 2009 was a mistake when other teams were chasing me but I am tempted to disagree. How many players in this world would not jump at the opportunity of playing for AC Milan?
You would have been singing a different story now if I had played regularly at AC Milan and banging in the goals. I did not have any playing time there for my potential to be seen and that was the problem.
When I was signing for AC Milan, I knew there were experienced players there like Ronaldinho, Inzhagi and the rest who would be preferred ahead of me.
I don't take a defeatist attitude in my life, therefore, I wanted to go in there and fight for a place even though I knew the other experienced and top senior players were there.
I wanted to go there to fight and in life it is only when you take on big challenges that you can become great. That's why I went there to fight for a place and show the coaches what I am capable of doing.
'There were many factors that conspired against me and the first one was the number of foreign players at the club. AC Milan were allowed to use only three foreign players in a game and with most of the established players foreigners my opportunities were severely affected.
Also, as this went on, Coach Leonardo continued to build my confidence by insisting my time would come.
When David Beckham arrived, it worsened by plight because as an experienced senior player it was extremely difficult for them to drop him for me. It was then that I realized that I must move on loan to get playing time so that I can stay in top shape. I was always with the first team called for camp, but the sticking point was the foreign-player rule.
I think for this question, the coach there can offer the best answer because I did my best in training but when it came to matches I was ignored.
The only time I had the chance to start, I scored and I was expecting that I would be given more opportunities in subsequent matches but surprisingly in the next game, I was not even part of the team called to camp. That was when I started talks with AC Milan about playing regularly and I think this is why I have been brought here to Partizan.
'I want to help the club to win the Serbian league title by the end of the season so that we can play in Champions League next season.
Secondly, I was to continue to build on my form by playing regular competitive football.
'I think getting some playing time from Partizan even though friendlies has helped me a lot to rediscover my sharpness and aggressiveness.
Also it was the first opportunity I have had in playing most parts of the game with the Black Stars because under previous coach, Mr. Rajevac opportunities were limited because we played with only one striker and with Asamoah Gyan in good form, it was difficult.
But our new coach, Mr. Stevanovic has shown that he wants to play with two or more strikers and that means there will be more opportunities for the other strikers in the Black Stars to serve their country and show what they can do.
'Clearly it is the tactics. Stevanovic is more attacking minded but also talks strongly about defending wisely. I think that under our new coach we will see more goals and more entertainment from the Black Stars like we did when beating Togo 4-1.