AGGRIEVED ACN GOVERNORSHIP ASPIRANTS DENY MEETING WITH AKALA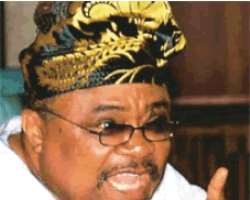 Akala
The three governorship aspirants of the Action Congress of Nigeria (ACN) Oyo State Chapter who were alleged to have concluded plans with Governor Adebayo Alao-Akala to create disunity within the party have denied having any knowledge of such plan or even having any clandestine meeting with the governor.
Mr. Soji Akanbi, Professors Wale Oyemakinde and Wole Akinboade were alleged to have met the governor at a popular hotel at Ring Road area of Ibadan, where they were said to have had a deal with him on the need to forge ahead with the on-going legal tussle, so as to brighten the chances of the governor in his bid to return to Agodi government house in May this year.
The aggrieved aspirants had filed a suit against the leadership of the party challenging the processes that led to the emergence Senator Abiola Ajimobi as the party's flag bearer for in the April poll.
While party leaders in a bid to ensure its success ahead of April election have extended olive branch to some of the aggrieved parties, like Chief Olufemi Lanlehin, who has been given the ticket to contest the Oyo South Senatorial but it was not clear if the same gesture had been extended to others like Dr. Adebayo Adewusi, Mr. Soji Akanbi, Professors Wale Oyemakinde and Wole Akinboade who all worked relentlessly for the party.
But while speaking in Ibadan on behalf of Akanbi and Akinboade, Prof. Oyemakinde said it was demeaning for anyone to say he had connived with Governor Akala who, he said, was not his equal in many respects.
He said:' How can I descend so low that I would be having a meeting with Akala to destabilize my party? It is not possible. I have been in politics many years ago. In terms of education, I am well educated and I have more experience than he. As for the hotel where they said we met with him, I don't even know the hotel.'
Speaking further 'We still belong to the ACN. We felt our rights were trampled upon and we took a legal step to get redress. I can never be a party to what the PDP is doing. We are different in so many ways. Our ideologies are not the same. How then can I rubbish my enviable political record and my affinity with progressives now? We believe the matter would be resolved', he said.
Meanwhile, a former Secretary to the State Government, Chief Sharafadeen Abiodun Alli has said confirmed the influence of external forces in the crisis rocking the party in the state.
Alli, a former chieftain of the Peoples Democratic Party (PDP) now in ACN in a telephone conversation said 'really, there is external forces and pressures from certain quarters instigating some of the governorship aspirants not to drop the case against Ajimobi but I can confirm to you that all that appears to be changing now because some of them have seen reasons why they should not destroy the party they all labored hard to build to this level.'
The former ally of Senator Rashidi Ladoja, however said added that ' those having grievances are already expressing their readiness to work for the progress of the party and salvage the State out of the current woods it finds itself.'